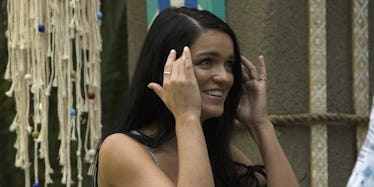 Did Raven, Adam, And Sarah Have A Threesome? 'Bachelor In Paradise' Fans Are Blowing Up Twitter
ABC/Paul Hebert
Bachelor in Paradise continues to bring the drama and the confusion to its fans in Week 2. Many would-be couples are starting to crumble, and it's hard to imagine anyone getting engaged at this point. Yet oddly, one question that had fans on Twitter abuzz was: Did Raven have a threesome with Adam and Sarah?
First, let me explain why people thought this was even a thing to begin with. Raven is trying to get in on the Adam love train, but unfortunately he seems kinda stuck on Sarah. So Raven was complaining about how both she and Sarah spent the night at Adam's place, and woke up to see Sarah cuddling with Adam.
Cuddles is definitely a sign of romance, but is it a sign of an orgy? Probably not, you guys. C'mon. This is Raven we're talking about — sweet, Southern, almost definitely monogamous, almost-won-The-Bachelor Raven. I highly doubt she would ever venture into the world of threesomes, especially not when there's like a bajillion cameras around. Sarah, maybe, but Raven? Nah. I doubt she even realized what it sounded like when she said that.
Yet for some reason, Twitter seems stuck on the idea that Raven had a threesome with Sarah and Adam.
Seriously? Y'all people need Jesus. Get your mind out of the gutter and into the pure, innocent, non-sexual fun that is Bachelor in Paradise. (Ha, ha. Just kidding on that one.)
Whether or not Raven will manage to win over the heart of Adam out of the clutches of Sarah remains to be seen. Of course, Raven could probably have any other guy on Bachelor in Paradise that she wants — but she doesn't want any other guy, she wants Adam! Sorry, Ben Z. Go cuddle with your dog or something, but the ladies are out here looking for grade-A husband material.