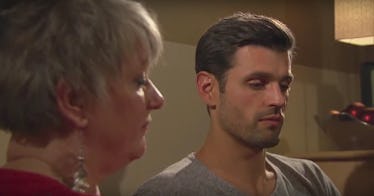 Rachel's Convo With Peter's Mom Is So, So Awkward On 'The Bachelorette'
YouTube
This week's hometown visit episode of The Bachelorette was intense, to say the least. As always, Bachelorette Rachel's hometown visits brought drama and further insight into the lives of the contestants.
And another staple the Bachelorette/Bachelor franchise are the last-minute complications meeting the contestants' families throw into the mix.
Complications, like, you know, your family thinking you're not emotionally ready for marriage and everything. That won't be a problem on a show in which the prize is marriage, right? Right. Cool.
In Monday's episode, we learned how Peter Kraus' mother feels about her son's future when it comes to marriage.
And let's just say it wasn't a conversation Rachel Lindsay will particularly want to write home about.
In the preview of this week's episode, we got a glimpse of Peter's mother, Lynn, saying she didn't think her son was ready for marriage. Um, why is he on The Bachelorette then?! That's the endgame here, Peter!
The preview shows Rachel straight-up asking Mama Kraus if Peter is ready for marriage. She says, "Is he emotionally ready for marriage?" Peter's mom replies, "Not necessarily."
MAMA KRAUS, WHY? I need more details!
Luckily, those details came. His mom continued,
Lynn said,
I could definitely see Rachel and Peter having something going forward. I can see the connection he and Rachel have.
But is that "something" marriage? Peter's mom doesn't seem to think so.
When asked if she thinks Peter is ready for marriage, Lynn said,
I think he is ready to start a family and to have someone in his life to share all of these growth things with. Is it, 'Here's a ring, and I want to propose to you? ' Not necessarily. It's commitment to a person, and it may not be a marriage. Yet.
Rachel responded,
So you could see him saying like, 'I'm committed to you?'
To which Lynn responded,
Correct. Yes.
Lots of people are 'shipping Rachel and Peter to get engaged in the season finale in a couple of weeks.
But meeting the family is a big deal, and no matter what all of us try to convince ourselves, our mothers really do know us best. (Damn you and your wisdom, Linda Boyle.) So Mama Kraus saying Peter isn't "emotionally ready" for marriage isn't exactly a vote of confidence for Rachel.
Just when you think you've predicted the ending.
Rachel Lindsay spoke with ET about the awkward conversation with Peter's mother saying he's not emotionally ready to get married.
She said,
Well, I already felt that Peter has his walls up, which I relate to -- that was me on Nick [Viall's] season, but to hear a parent say that ... a mother knows her child.
WHAT'D I TELL YOU?! She continued,
I was a little shocked by that. And it was something I wanted to talk to him about later on or whenever I had the chance to. I'm like, what are we doing here, you know?! It really took me by surprise. That was probably the most shocking thing from his hometown.
After talking with Peter's mom, Rachel said,
I just don't want a boyfriend at the end of this, but my fear is that that's all that I'll get from him.
Yikes.