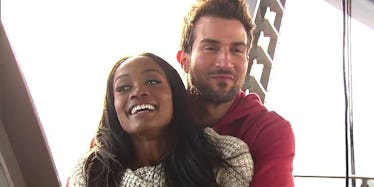 Rachel And Bryan's Body Language On 'The Bachelorette' Could Show True Love
ABC
We finally made it to The Bachelorette finale, and Rachel Lindsay's heart has been won by Bryan Abasolo. Though some fans may have found it hard to figure out which of the guys Rachel would pick, it seemed pretty clear to anyone who's been watching Rachel and Bryan's body language on the show. I mean, on these dating shows, it always just seems so clear who's feeling whom the most when you look at how they act around one another, and this season of The Bachelorette is no different.
Throughout the season, it was clear Rachel vibed with Eric, Peter, and Bryan, but as the finale showed, she just seems to light up more around Bryan. It's been going on since day one, when she made out with the Miami chiropractor and gave him the first impression rose. And the physical attraction didn't seem to let up, as Rachel would consistently select Bryan for one-on-one dates and get into some steamy makeout sessions.
That physical connection was even more apparent in the finale. Rachel just seemed to be more interested in hugging, touching, and being close to Bryan on their final dates than Peter or Eric. I mean, they woke up in bed eating strawberries together... need I say more? Rachel would start out each of her dates with Bryan by running into his arms, as opposed to more restrained hugs with Peter. Of course, a big part of Rachel's hesitation with Peter was his consistent refusal to agree to marry her at the end of the series, so that could also be an explanation of why she was more reserved around him.
Though Rachel clearly had a connection with Eric and Peter as well, it really seems like Rachel's attraction to Bryan was just much stronger. But, that might turn out to just be his game. Let's not forget Bryan was already on a reality dating show before this called The Player, and many of his fellow contestants have called into question Bryan's motives. Dean said he felt Rachel was falling in lust with Bryan, rather than falling in love with him.
Despite this player persona, Rachel choose Bryan over Peter after the other contestant's emotional breakdown during their final date. We'll have to wait and see if this is love or just lust, but it's clear Rachel still can't get enough of Bryan, and hey, that's a pretty good thing!