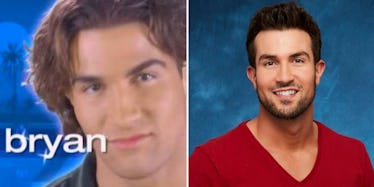 Bryan From 'The Bachelorette' Was On Another Dating Show In '04 & There's A Video
UPN, ABC
Bryan Abasolo is easily becoming the clear frontrunner on this season of The Bachelorette, having swooned Rachel Lindsay into giving him her first impression rose and, more recently, making out with her all over Geneva and moving on to hometown dates.
But this isn't Bryan's first time wooing women on reality TV. More than 10 years ago, back in 2004, he appeared on a short-lived UPN reality dating show called The Player, and you have to see what he looked like back then!
Check out the intro to the show:
Notice our boy in there? Here's a freeze of Bryan back when he had shaggy hair and a diamond earring. Incredible.
Looking good, Bry!
Of course, the name of the show is also a perfect descriptor of how Bryan has been perceived on this season of The Bachelorette. He has been called a player by a bunch of the other contestants, pointing out his penchant for smooth talking and uncanny ability to get Rachel to make out with him basically every other minute they're together.
Clearly, Bryan has been honing his player skills for years. On the eight-episode UPN series The Player, Bryan competed against other Miami playboys to see who can pick up the most women at various bars and nightclubs. Sounds totally cool and not at all sleazy, right?
Yeah... not so much. But at least Bryan has grown with the times. He's clearly still got his seduction skills from back in the day, but luckily he's decided to cut his hair and sport some less flashy earrings in the 13 years since the show.
It looks like Bryan is the best bet to win The Bachelorette this season, with Rachel asking him on the first one-on-one date in the most recent episode and handing him the first rose of the episode after their passionate date. The player lives on!