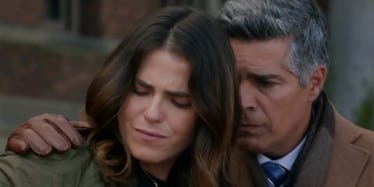 Here's The One Big Question After The 'HTGAWM' Season 4 Premiere
ABC
How To Get Away With Murder is officially back for another wild and twist-filled murder mystery, but its Season 4 premiere episode focused less on shocking murders and more on some quality and heartbreaking family moments between Annalise Keating and her dementia-addled mother Ophelia (Viola Davis and Cicely Tyson). But that all changed when the show snapped back into gear in the last few minutes when the show dropped one of its signature flash-forward bombshells on us, this season involving Laurel. So what is going on with Laurel and her pregnancy on HTGAWM? Here's everything we know right now.
The first bit of confusion surrounding Laurel started early in the episode, when she told her father she was pregnant with Wes' baby (RIP Wes) but had an abortion. We the viewers know that Laurel's dad is not a good dude — it was revealed in the previous season finale that he was actually the person behind Wes' murder! — but it sure doesn't seem like Laurel knows that about her dad in the opening of Season 4. Then again, this is How To Get Away With Murder, where everyone lies literally all the damn time, so when Laurel said she got an abortion, we still weren't exactly sure what to believe.
And to make it even more confusing, we then see Laurel go to dinner with Annalise, Bonnie, and the rest of the Keating law school gang, and she tells them all she won't be drinking because she has decided to keep the baby. Sooooo, is Laurel pregnant or not? Who is she lying to? WHAT IS HAPPENING!?
Thankfully, it appears that we actually get an answer to the question of Laurel's pregnancy in the last few minutes of the show. As she lays down to read Annalise's recommendation letter (after Annalise used that big dinner to basically dump the law school group), we see Laurel caressing her belly. Nobody is around, so this would certainly seem to suggest she really is still carrying Wes' child.
The "Laurel is still pregnant" theory makes even more sense when we see her almost text her dad "Why did you kill Wes?" She knows he was Wes' killer! It would totally make sense that she would lie to him about the abortion to keep her baby safe, and also to possibly kick off a revenge plan, as we also see a gun lying on her end table.
And then we get the final scene, a flash forward to three months from now, where Laurel wakes up in a hospital screaming "Where is the baby!?" And her former lover Frank is right there to try to comfort her. So... this means she is pregnant, right? Or is something else going on?
The whole Laurel pregnancy confusion immediately sent Twitter into a theory-packed spiral. The straightforward answer would seem to be that Laurel is indeed still pregnant and lied about the abortion to keep her Wes-murdering dad in the dark, but one detail about the hospital flash-forward scene might throw a wrench in this interpretation: Why is Annalise's therapist there?
A number of fans on Twitter are theorizing the therapist begins treating Laurel this season too, helping her come to terms with possible post-traumatic stress disorder from everything she went through with Wes last season. Could that mean she also imagined the pregnancy? I have no idea what's going on anymore.
Right now, all we really know is that this season is going to be a crazy one for Laurel. It looks like she's preparing to take down her father, and either end up giving birth to and then losing a baby, or finding out she was never pregnant in the first place. Damn... this is going to be a wild ride, isn't it?