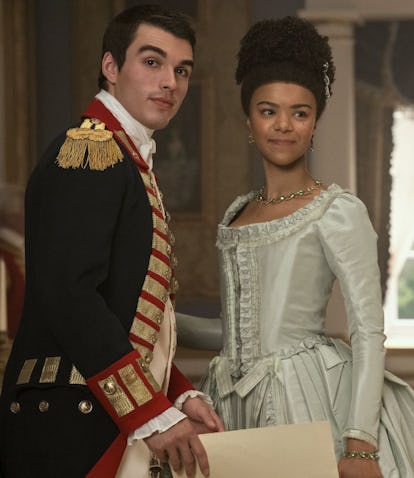 Queen Charlotte Fans Are Royally Pissed After The Emmys Snubbed The Show
Justice for Charlotte and George!
Apparently, Emmy voters didn't fall as hard for Charlotte and George's epic love story as Netflix viewers did. When the nominees for the 2023 Primetime Emmy Awards were announced on July 12, there was one title very noticeably missing: Queen Charlotte. The Bridgerton prequel series took over Netflix when it premiered back in May, with several fans even raving that it was better than the original series. But despite its popularity, Queen Charlotte was royally snubbed by the 2023 Emmys, and people were not happy about it at all.
Queen Charlotte entered awards season with a ton of hype, as fans were expecting the steamy chemistry between India Amarteifio and Corey Mylchreest to clinch some major acting nominations for the stars. But both leads, as well as the show itself, were passed over in every single major category by the Emmys. The awards body didn't leave Queen Charlotte entirely high and dry, though — it did get three nods in the Creative Arts categories for Outstanding Period Costumes, Outstanding Period Hairstyling, and a nomination in the Outstanding Character Voice-Over Performance category for Julie Andrews. Nevertheless, the lack of recognition in any of the major Emmys categories felt like a slap in the face to fans.
After the nominations were announced, Queen Charlotte fans flooded social media with their disappointment over the unexpected snub.
Some fans dug a little deeper and pointed to a probable reason why Queen Charlotte didn't get nominated. Though the Bridgerton spinoff is billed as a limited series, it was submitted to the Emmys in the much more competitive Drama Series categories, likely due to hints creator Shonda Rhimes has dropped about potentially continuing the show. Because of this, it was up against some of the most nominated shows in this year's competition, including Succession and The Last of Us. A few fans blamed this decision for Queen Charlotte's snubs.
So, unfortunately, Queen Charlotte won't get to add a golden trophy to her collection of opulent knick-knacks, but she's probably got more than enough gold in her palace already.