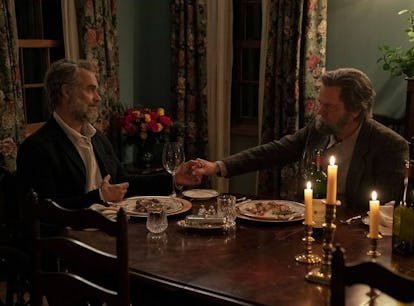 We Need To Discuss How The Last Of Us Changed Bill & Frank
For those who've played the game, this was more than just a beautiful love story.
Liane Hentscher/HBO
Content warning: This story contains mention of suicide. TV shows based on video games first broke through to the mainstream in 2018's The Witcher. However, that was a special case, as there were novels and short stories to draw from as well. So although The Last Of Us had a groundbreaking play-through style, building emotional backstories for the characters was seen as a nearly insurmountable challenge for HBO. And yet, the way The Last Of Us changed Bill and Frank's story from the game to the show created an emotionally beautiful vignette about love in the time of zombies.
Warning: Spoilers for The Last of Us Season 1, Episode 3 follow. The Last of Us is yet another series about the zombie apocalypse, coming a decade after The Walking Dead already spawned countless imitators. The game focuses on two characters, smuggler Joel and his cargo Ellie. Everyone else encountered is either a provider of necessary items or an obstacle to getting to them.
However, the game did suggest some characters were more than they seemed — provided you chose the correct mission. Bill and Frank are perfect examples. In the game, Joel and Ellie passed through Bill's walled-off town, only to learn Frank, who Bill allowed to stay with him despite not wanting others around, disappeared. Bill was an angry, miserable person, and players who decided to get away from him ASAP could have missed what the game says about him.
Players who stayed and explored Bill's town might have entered the part he says not to. If they did, Frank's body turned up. The suicide note he left stated he'd died by suicide because he tried to escape, got infected, and couldn't live another day around Bill and his awful attitude. Players chose whether to hand Bill the note; if they did, his face crumpled, a silent sign of how much he loved Frank and how hard his death hit him.
The series took this moment of rage and loss and turned it into a moment of beauty and joy in a barren landscape. It turned back the clock to Frank's arrival in Bill's town, revealing how Bill gave in, allowing Frank to stay, and how the two fell in love. Despite the post-apocalyptic nightmare, Bill and Frank opened their hearts to each other, and through Frank's encouragement, Bill also allowed himself to befriend others, like Joel and Tess.
But like all good love stories, tragedy struck — not via an infected zombie, but old age. (Just because the world is full of zombies doesn't mean all other diseases have disappeared.) Frank developed a neurological condition — the show doesn't specify what exactly it was, but considering there's no healthcare, it's not important. What mattered was that Bill spent his days caring for Frank, keeping them alive and together.
And then, one morning, Frank woke up and decided it was time. He didn't want to be a burden to Bill as his health continued to decline, and he knew his days were numbered. He asked Bill to give him one perfect day, to love him the way he wanted to be loved. At the end of it, Frank lay down to pass away, and Bill did so right alongside him.
When Joel and Ellie arrived, they found Frank and Bill's bodies in bed together, with a different note. Frank's bitter screed was replaced by Bill urging Joel to open his heart and love someone the way they want and deserve to be loved. In a time of zombies, when the world has ended, that's the greatest reason to live. The pain of loss will come, but it's worth it to have the joy while you can.
Bill was thinking of Tess when he wrote it, but Joel stopped reading before he reached her name so viewers could substitute in Ellie's instead. As Joel and Ellie headed out to continue their journey, Linda Ronstadt's love song "Long, Long Time" played, the song Frank taught Bill to sing. It was a defining moment that separated The Last of Us from so many of its zombie-laden counterparts. It's not a story about monsters, shock deaths, or horror. It's about how human hearts can find joy and beauty in the toughest of circumstances, and that love is the reason the last of us keep going.
The Last of Us Season 1 continues with new episodes every Sunday at 9 p.m. ET on HBO and HBO Max.
If you or someone you know is experiencing suicidal thoughts, call the National Suicide Prevention Hotline at 1-800-273-8255 or text HOME to the Crisis Text Line at 741741. You can also reach out to the Trans Lifeline at 877-565-8860 or the Trevor Lifeline at 1-866-488-7386, or to your local suicide crisis center.