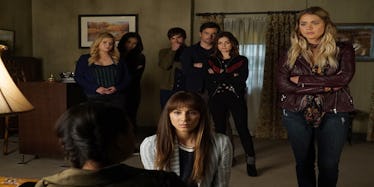 'Pretty Little Liars' Series Finale Promo Gives Us Major Clues To Who A.D. Really Is
FreeForm
Time's almost up, Liars. With each passing day, we get closer and closer to the series finale of Pretty Little Liars and, more importantly, to finally figuring out who A.D. is.
During an intense flashback scene in last night's episode, we saw who killed Charlotte, but that still leaves the question of who has been tormenting the Liars for the past two seasons wide open.
As always, we have no clue WTF is going to happen on this show, but that hasn't ever stopped us from guessing.
Even as recently as last week we saw some pictures that hinted Mona might be the mystery texter, and read a theory that the hooded culprit might actually be Melissa, so, of course, we are dying to know as much as we can to prepare us for next week's finale episode.
Lucky for us, the promo for the finale episode, "'Til Death Do Us Part," aired last night and it might answer a few of our burning questions (or it might do the exact opposite and introduce a whole bunch of new questions):
The trailer is packed with plenty of "OMG" moments like Wren returning out of nowhere and SHOOTING SOMEONE, Spencer and Toby kissing, and Aria saying that she can't marry Ezra. Obviously, we're in for a whole lot of drama.
But, perhaps the most nerve-wracking moment of the entire 30 second promo comes when Mona says "I never woulda guessed it was you" to a dark figure who I'll go ahead and assume is Uber A. The question still remains, though, who is Mona talking to? Can we *officially* eliminate Mona as a suspect? Ugh, the stress is never ending.
All we really know about the finale at this point is that all five Liars will be in the final shot of the show. So, it looks like we will just have to keep guessing who the villain is until the episode airs next Tuesday.