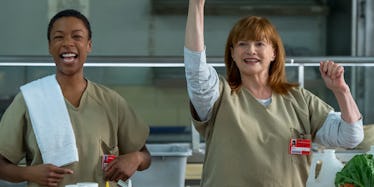 This Is The One Person Poussey From 'OITNB' Fangirls Over In Real Life
Netflix
Samira Wiley – aka Poussey Washington from "Orange Is the New Black" – might just be Justin Bieber's biggest fan.
In an interview on Elite Daily's Facebook Live, the 29-year-old actress said she was a total fangirl for Justin Bieber. For the first time ever, she declared herself a Belieber.
Samira said,
Am I a Belieber? Yes! Yes, I've never said that before. I don't know how I feel about it. Am I a Belieber? Yes. I Belieb.
A lot of unhappy stuff happens to her character, Poussey, in the latest season of "Orange Is the New Black." But one of the happy things is that Poussey meets her celebrity idol, Judy King.
Judy King is one of Litchfield's newest additions, and she also happens to be a famous cooking show host. Poussey has an adorable fangirl moment when the two first meet.
So, when Samira Wiley came into the Elite Daily office to talk to me on Facebook Live – and trust me, I definitely had my own fangirl moment about THAT – I asked her who she fangirls over in real life.
Her answer? The only and only Biebs.
She said,
This is so cheesy, but I really would freak out if I met him. I'm just gonna say it... Justin Bieber.
Yes, Samira Wiley is a Belieber. She even confirmed it for me when I asked her if she identified with the "Belieber" title. Honestly, it seemed like kind of a big moment of realization for her.
And if you still need proof that Samira Wiley is serious about this Justin Bieber thing, when I asked for her favorite Bieber song, she named an obscure one from 2012.
If we're talking fav, fav: Are we going back? I like that "Die In Your Arms" song. (Laughs.) I'm exposing myself. Obviously, I'm a diehard Belieber. It's got like a Jackson 5 feel to it. I'm educating you. Look it up.
As Samira could tell, I had never heard of this Bieber song before. But per her request, I looked it up.
I'm with Wiley on this one. This song is a total jam. Thank you so much for teaching me the Bieber way, Samira!