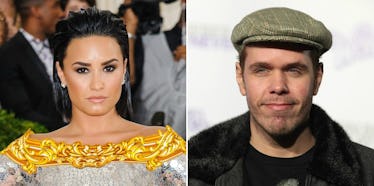 Perez Hilton And Demi Lovato Just Had Some Major Beef On Twitter
Shutterstock
Demi Lovato and celeb blogger Perez Hilton got into a bit of a Twitter fight today after Hilton "liked" a tweet regarding the Mariah Carey-Demi Lovato feud over Ariana Grande.
The feud began over Lovato's comment on this meme back in June.
So, when Demi Lovato saw Perez Hilton "liking" a tweet regarding the feud on Twitter, she just had to slide into his DMs for a little confrontation.
The 23-year-old singer messaged Perez Hilton directly, saying, "let it go already." That's when a puzzled Hilton replied with "huh?" From there, the celeb blogger let Lovato know that he hadn't published anything regarding her in days.
Once Demi expressed that the "liked" tweet is what set her off, Perez then said he likes every tweet that people send him and told her that he isn't going to change how he uses Twitter to make her happy. Ouch!
Here's the tweet (or the "receipts," rather).
Perez then took to Twitter to spill the drama.
He didn't stop there.
If you don't like the tweets Perez likes, just block him!
Oh, and just in case anyone forgot, this is about Demi Lovato.
So, how did Demi respond OUTSIDE of Hilton's DMs?
As if that weren't enough, she dropped the mic with one last tweet.
It's hard to tell who won this hard-fought Twitter battle, but I'm going to go ahead and call it a draw -- for now.