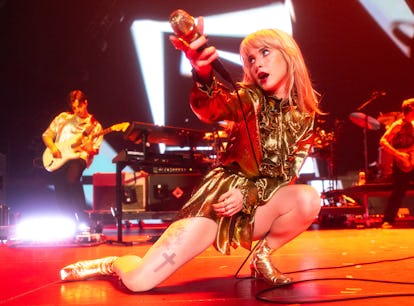 Wait, Did Paramore Just Hint At New Music? Let's Decode These Hints
They went to the Taylor Swift school of Easter eggs.
Christopher Polk/Penske Media/Getty Images
Let Paramore's sonic reign continue. Ever since the band reunited last year, every member has proved they've been fine-tuning their skills during their hiatus. From Hayley William's riveting vocals to Taylor York and Zac Farro's impressive musical talent, the group's new chemistry has been off the charts. This graceful maturity can be heard on their latest This Is Why album, and it seems it might continue. Paramore recently teased they have something on the horizon and some fans believe it might be new music.
On Sept. 25, Paramore posted a video including three clues on Twitter. Written out on the Notes App, the band named the entry 'Re: This Is Why,' a reference to their sixth studio album that dropped in February. The note then listed out three dates with the album's title jumbled in different ways: "This Is Why" on Sept. 28, "Why Is This" on Oct. 2, and "Is This Why?" on Oct. 6.
This post sent fans into a frenzy, as Paramore recently announced they're working on new music. On Aug. 27, the band shared a sweet selfie of themselves in the studio on Instagram. Williams posted a similar shot on her personal page that same day. Her photo dump also shows Zach playing the drums and empty notebooks lying on her music stand.
One day after those photos, Williams confirmed the band was back in music mode on Discord. "We've been off the road for a couple weeks now… mainly in LA. Thankfully got some down time but we put some work in too," Williams wrote on Aug. 28, per Billboard. "It felt good to get back into a studio. More of that once we get home to Nashville."
Williams continued her note, stating the band "wants to get back to making things." "We've been craving that for a while now. Not only the creative process but the layer(s) of insulation that can come with the creative process," she said at the time. Now, nearly a month later, the band's seemingly teasing a layered and incredibly exciting concept for This Is Why.
Since the album's Feb. 10 release, Paramore hasn't hinted if This Is Why will have a deluxe version. However, that hasn't stopped fans from theorizing that these new three titles will be bonus additions to the record. One fan, à la Raven Baxter from That's So Raven, predicted the band had a deluxe album in the works as early as August. Meanwhile, another fan speculated Paramore will release a documentary.
Paramore has been recording glimpses of the tour and sharing them on social media. This includes behind-the-scenes moments of Williams in the studio, on the set of their "The News" music video, and the band posing for different photos. With this album serving as their grand reunion record, it wouldn't be far-fetched if they used a documentary to close out this era.
Whether a deluxe album or an intimate documentary, one thing is for certain: Paramore's return to the pop-punk scene might just be getting started.