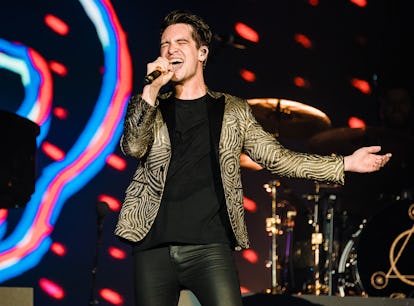 Twitter Is Here For The End Of Panic! At The Disco
Brendon Urie explained why it's time to call it quits.
Mauricio Santana/Getty Images Entertainment/Getty Images
The pop-punk revival train will have to rage on without Panic! At The Disco. On Jan. 24, frontman Brendon Urie announced on Instagram the group will end after their forthcoming European tour. For someone that infectiously claimed to not write tragedies, Urie's sudden letter about the band's breakup left fans on Twitter devastated. However, there's some toasting to the news in the shadiest way.
"Well, it's been a hell of a journey… Growing up in Vegas I could've never imagined where this life would take me," Urie began the post shared on the band's official Instagram. "So many places all over the world, and all the friends we've made along the way. Sometimes a journey must end for a new one to begin."
Urie then revealed the new journey he'll soon embark on: Fatherhood. According to the "High Hopes" singer, he and his wife Sarah Urie are expecting their first baby. "The prospect of being a father and getting to watch my wife become a mother is both humbling and exciting. I look forward to this next adventure," he wrote, adding that he's focusing his energy on his blossoming family and Panic! At The Disco "will be no more."
To close out the note, Urie thanked both new and veteran fans for their unconditional support. He also mentioned the band's upcoming Viva Las Vengeance tour, which will coast through several dates in Europe and the U.K. throughout Spring 2023.
"I've sat here trying to come up with the perfect way to say this and I truly can't put into words how much it has meant to us. Whether you've been here since the beginning or are just finding us, it has been a pleasure to not only share the stage with so many talented people but also share our time with you," Urie wrote.
Panic! At The Disco formed in 2004 when Urie met former guitarist Ryan Ross, drummer Spencer Smith, and bassist Brent Wilson in high school, per Pitchfork. The band's gawky sound caught the attention of Fall Out Boy's Pete Wentz (which is a legendary moment in itself), and they went on to release their 2005 album, A Fever You Can't Sweat Out.
Shortly after their debut record, the band's lineup began to change. According to The Guardian, Wilson left in 2006 and was replaced by musician Jon Walker, who then departed from the band along with Ross in 2008. Smith made his exit six years later in 2015, leaving Urie as the sole member.
Considering Panic! At The Disco has been cooing angsty lyrics for nearly two decades, this somber announcement made waves across Twitter. Many users mourned the breakup announcement by reflecting how much the band shaped their emo music phase growing up. Meanwhile, other users celebrated the band's end, commenting that Urie's solo efforts tainted the band's once risk-taking reputation.
See some of the wholesome and shadiest reactions to Panic! At The Disco's breakup, below.
IYDK, Panic! At The Disco became mainstream alongside other pop-punk holy grail acts like My Chemical Romance, Fall Out Boy, and Paramore. Ugh, now that was an era.
Twitter user @uriesje0n has a point. Panic! At The Disco, you'll forever be famous.
Oh, that's such a read.
At least the world has other bands to count on during this riveting emo renaissance.
Now, that's one take you can't deny. Their hit, "I Write Sins, Not Tragedies," was the soundtrack to many melodramatic, Hot Topic-peddling teens in the early 2000s, and is still a bop to this day.
Panic! At The Disco's final tour will kick off in February 2023.