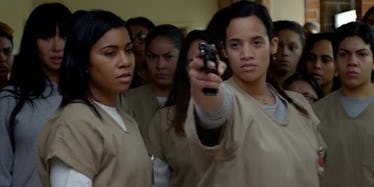 5 Real Prison Riots To Know About Before You Watch 'Orange Is The New Black'
Netflix
Whether or not you've already binged Season 5 of Orange is the New Black, you know things are going to get crazy at Litchfield this year.
When we left off in Season 4, the inmates were revolting, the guards were scared, and Daya had a gun pointed at a CO's face.
Now, in Season 5, the Litchfield inmates are listing their demands for better treatment (and an anti-gravity trailer).
It seems safe to classify what's happening here as a "prison riot."
So before you hole yourself up in bed and binge all of Season 5 this weekend, it might be a good idea to brush up the history of some actual prison riots and compare that to the TV version.
There's been a number of prison riots and uprisings across the United States  — here are some of the most notable ones:
(Note: Because of the unique culture and laws surrounding U.S. prisons, I have restricted this list to U.S. prison riots only. But you should know that this is a worldwide phenomenon.)
1. Attica Prison Riot
When: Sept. 9, 1971 - Sept. 13, 1971.
Where: Attica Correctional Facility in Attica, New York, United States.
The Orange is the New Black writers definitely leaned heavily on the Attica prison riot for inspiration — Leanne and Angie even referenced "Attica" in the Season 4 finale.
It's one of the most famous prison uprisings in history and was a significant event in the Prisoner's Rights movements.
According to history.com, Over 2000 inmates took over the Attica Correctional Facility, taking 42 guards and staff hostage. The inmates created a list of demands, including better medical treatment, fair visitation rights, an end to physical brutality, and amnesty for the prisoners who participated in the riot. (Sound familiar?)
Governor Nelson Rockefeller refused to adhere to the demands. Four days after the prisoners took control,  tear gas was dropped in the prison yard and New York State Police open fired into the smoke, on the orders of Governor Rockefeller. At least 43 people died, including 10 officers and staff, and 33 inmates, some of whom were not resisting.
2. New Mexico State Penitentiary Riot
When: Feb. 2 - Feb. 3, 1980.
Where: New Mexico Penitentiary in Santa Fe, New Mexico.
This riot, which took place in New Mexico's maximum-security prisons, was one of the most violent in U.S. history, according to koat.com. Fed up with an overcrowded prison (at the time of the riot, there were 1,136 inmates in a prison designed for 900), unsanitary conditions, and the lack of educational programs, a group of inmates broke into the prison's master-control center, giving them access to all the cell locks and weapons. Officers were taken hostage and beaten.
Murder and violence quickly escalated. Victims were tortured, dismembered and all around had terribly gruesome things done to them. A large group of inmates escaped and hid in the prison yard. There was some negotiation with authorities — a list of 11 demands from the inmates — but there was no clear spokesperson.
Thirty-six hours after the riot began, the state police entered the facility, heavily armed, and officially ended the riot. At least 33 inmates died (most brutally murdered), and over 200 more were injured.
3. Southern Ohio Correctional Facility riot
When: April 11, 1993 - April 21, 1993.
Where: Southern Ohio Correctional Facility in Lucasville, Ohio.
The Supreme Court of Ohio reports, on Easter Sunday in 1993, 450 prisoners at SOCF formed an alliance, revolted, and took over the prison for 11 days. One of the main sources of frustrations was that Muslim inmates were being forced to get tested for tuberculosis when the test contained phenol, which is banned in Islam.
While prisoners were negotiating, they debating killing a hostage guard, as they felt their demands weren't being taken seriously. The guard was ultimately strangled to death, though which prisoner was responsible for his death is not clear. The total death toll was ten: nine inmates and the one correctional officer.
4. Holman Correctional Facility riot
When: March 11, 2016 - March 16, 2016.
Where: William C. Holman Correctional Facility in Atmore, Alabama.
Riots broke out last year at a prison in Alabama, and both a prisoner guard and the warden were stabbed. Reports say no one died, and officers refused to share information about the riot, but a cell phone video surfaced from inside the prison that showed fires in the facility.
Some of the prisoners reportedly sent a list of demands to a local reporter, which included being released with monetary compensation "due to the conditions of the prison and the overcrowding of these prisons in Alabama."
5. Delaware Prison riot
When: Feb. 1, 2017 - Feb. 2, 2017.
Where: James T. Vaughn Correctional Center in Smyrna, Delaware.
Just a few months ago, the Washington Post reported inmates at a prison in Delaware took four correctional officers hostage. After a 19-hour long standoff, state police stormed the facility and found one of the prison guards dead.
Inmates reportedly told a local newspaper that the siege was in response to President Trump's policies and concern for what his administration would do to the already sub-par conditions of prison life. Reportedly, none of the inmates were injured after police regained control of the prison.