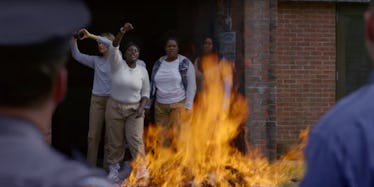 The 'OITNB' Season 5 Trailer Is Here And There's A Power Shift In Litchfield
Netflix
Litchfield is under new control in the new season of "Orange Is the New Black," according to the first full-length trailer for Season 5.
After the grotesquely abusive treatment from the prison guards throughout the last season of the show, which lead to Poussey's death, the prisoners are finally taking charge and changing the inhumane conditions around Litchfield.
And leading the charge is none other than Taystee — Danielle Brooks' initially humorous character who has become a fierce mother figure to her fellow prisoners.
Following Poussey's death last season, we see Taystee confront warden Caputo and demand justice in the new trailer. Later, she urges the inmates to rise up against their oppressive conditions:
We get beat for no reason. We're stuffed four in a bunk like we're factory chickens. We're denied basic humanity.
The other characters who look like they'll be pivotal in this demand for change are Big Boo and Alison, the new Muslim inmate introduced last season.
We see Big Boo out of her usual tank top and dressed to the nines in a suit and tie throughout the trailer, presumably to represent the inmates in meetings with management.
And then there's Alison, who appears to have written a letter to management declaring that the prisoners are being held in unsuitable and abusive conditions. She also asks her fellow inmates to draft a list of demands, although they don't seem to be that helpful.
It also looks like Piper is inserting herself into the mix (per usual), and is proving useful by recording Taystee's demands to the management on a video phone.
As the inmates begin to organize against the prison management, we see Poussey's death still looms over them all, particularly Suzanne. Over the spot where Poussey was suffocated by a guard, Suzanne has created a shrine to her fallen friend out of cafeteria trays and a candle.
But the real question is: Did Daya shoot that guard? Season 4 ended with Daya holding the gun at the most sadistically abusive prison guard's head as her fellow inmates cheered her on to pull the trigger.
We might have gotten the answer in the trailer — a quick glimpse shows Daya lowering the gun and although we can't see the guard in the shot, it looks like she might have spared him... but honestly, you can't totally tell from this shot.
Clearly we have a lot to look forward to when "Orange Is the New Black" returns on June 9! Check out the trailer for yourself below: