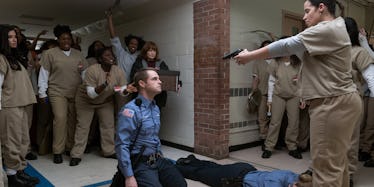 Here's Everything You Need To Know Before 'OITNB' Season 5 Drops On Netflix
Netflix
It's almost time for us to go back to prison and get wrapped up in all the crazy drama of Orange Is the New Black again, but we've got to remember what's even happened on this show up until now.
With such a huge cast, who all have their own storylines and important moments, it can be easy to let some of the details slip and go into Season 5 feeling a little lost. But don't worry, because I'll catch you guys up on what happened in the first four seasons of OITNB so you can start bingeing the new season on June 9 knowing what's what.
Season 1
The first season of the show mostly depicts Piper Chapman adjusting to her new life in prison after getting arrested for money laundering. She finds a powerful ally in the gruff head of the kitchen Red and reignites her relationship with former girlfriend Alex, but makes an enemy out of former meth addict and reborn Christian Pennsatucky and misogynistic corrections officer Healey.
In the finale, Healy turns a blind eye as Pennsatucky charges at Piper with a shiv, but Piper is able to knock Pennsatucky out and begins to beat her.
The other central story of this season is Daya's pregnancy. She begins a hidden romance with corrections officer Bennett that results in her pregnancy. The two try to figure out ways to make their relationship work.
Season 2
A new inmate named Vee creates drama at Litchfield, luring her fellow black inmates into more dangerous illicit activities. She also creates an enemy out of Red, who is smuggling contraband in through a greenhouse.
In the finale, Bennett confesses to interim warden Caputo that Daya is pregnant with his child. Vee's friends turn on her when it's revealed that she is framing Suzanne "Crazy Eyes" for an attack that she made on Red, and she makes an escape through the greenhouse tunnel but is killed by inmate Rosa, who is out on a joyride after learning she'll soon die from cancer.
Season 3
This season finds Piper starting a business selling dirty panties to men outside of the prison, and in the process, she grows closer and enters a relationship with new inmate Stella. Alex grows concerned that a new inmate named Lolly is an assassin placed in Litchfield by her old crime boss to take her out but later discovers Lolly is simply delusional. Silent inmate Norma becomes venerated as a religious leader and a cult forms around her.
At the end of the season, Piper discovers Stella has been pocketing money from her business and frames her by placing a weapon in her bunk, getting her sent to maximum security. Bennett becomes overwhelmed and disappears on Daya. After relapsing on her heroin addiction, Nicky is found out and sent to maximum security.
Season 4
A new group of correction officers is brought into Litchfield, and one of them was sent by Alex's former crime boss to murder her.
Lolly helps Alex incapacitate him, and Alex strangles him and buries him near the greenhouse. Pennsatucky begins a romance with one of the new COs, which then sours when he rapes her. And another new CO, Humphrey, displays psychopathic power trips, forcing inmates to eat baby mice.
The new power dynamic comes to a head when the prisoners organize a peaceful protest to oust the new COs. When Poussey rushes to Suzanne's aid during the protest, she's restrained by new CO Bayley, who holds her down until she is unable to breathe, and she dies.
Taystee overhears Caputo telling the public he will not fire Bayley and incites a riot among all the prisoners. They converge on CO Humphrey, and Daya picks up his gun when he drops it. The season ends with Daya pointing the gun at CO Humphrey's head while her fellow inmates cheer her on.
Orange Is The New Black Season 5 start streaming on Netflix on June 9.