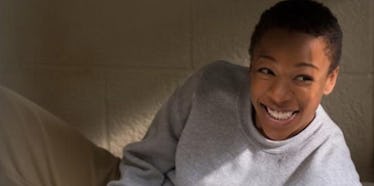 This Theory About New 'Orange Is The New Black' Trailer Hints At Poussey's Return
Netflix
The Season 5 trailer for "Orange Is the New Black" is finally here so you know what that means, it's time for some crazy fan theories!
One of the most out-there bits of speculation to come out of the newly released trailer suggests we may actually be seeing Poussey again.
As fans of the show know, Samira Wiley's character, Poussey Washington, was suffocated and killed by a prison guard towards the end of the last season of "OITNB." One Redditor seems to think that even though Poussey is gone, the last scene in the new trailer could mean that she's not gone forever.
At the very end of the Season 5 trailer, we see Suzanne leading Soso, Taystee, Black Cindy and Watson in a seance on the prison floor.
Judging from the participants (and how sad Soso looks), it seems clear Suzanne is attempting to commune with Poussey's spirit, and one fan was curious to see what would happen if it actually worked.
The Reddit user expressed hope that "Orange Is the New Black" could completely jump genres and embrace some supernatural elements in Season 5, and bring Poussey back from the dead.
"OITNB" is no stranger to jumping genres — after all, it was billed as a comedy when it premiered but it's obviously now evolved into much more of a hard drama — but I think assuming the show is going to go full paranormal is pretty farfetched.
However, I do understand the emotion behind the hopeful theory: Poussey was a fan-favorite character and her death was particularly brutal. Of course, we all would love to see her back any way we can. But if she does pop up this season, I think it will definitely be in flashbacks and not as a zombie or ghost.
Another reason we probably won't be seeing Poussey in the new season is Samira Wiley is super booked! She had a long recurring role in the most recent season of "You're the Worst" and she currently stars in "The Handmaid's Tale," not to mention the two movies she has in post-production.
Unfortunately, I think we just have to accept the fact Poussey is gone.
Season 5 of "Orange Is the New Black" will premiere on Netflix on June 9.