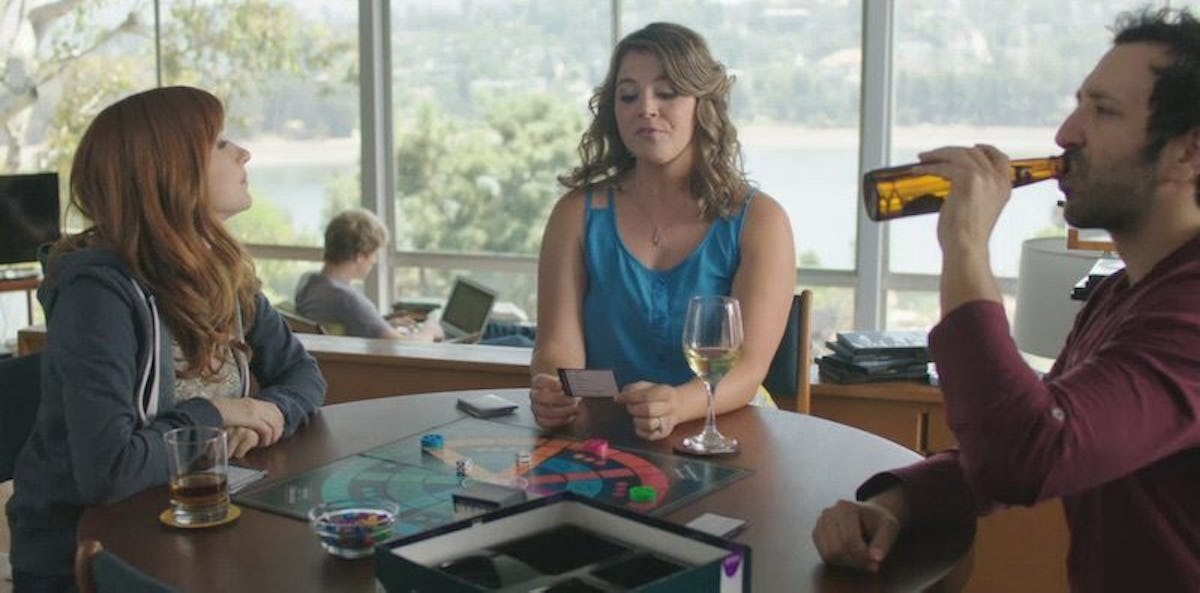 'You're The Worst' Just Returned To TV And You Seriously Need To Be Watching
FX
Let's talk about TV.
It's great. Some people would even say we are in the golden age of television. And let's be honest, if you are in your 20s, you are probably obsessed with at least one 30-minute long comedy-dramedy.
Whether it is "BoJack Horseman," "Difficult People," "Unbreakable Kimmy Schmidt," "Transparent," "Casual" or the slightly longer "Unreal" and "Orange Is the New Black" --  you are probably streaming something. Maybe all of them.
If we can say one things about "Girls," it made executives realize you could make something funny and real. And we started eating it up.
But there is one show you are most likely missing. It's called "You're the Worst," and somehow it just quietly started its third season.
There are a couple reasons you probably haven't heard of it. For one, it has a bad name. I think we can all agree it sounds like a dorky sitcom.
Second, we are the streaming generation, and this show is on FX. But thankfully, seasons one and two are on Hulu. So you can catch up.
So what is it about? Why should I watch it?
OK, I am getting to that. So the pitch sounds kind of silly. The show follows Gretchen (Aya Cash) and Jimmy (Chris Geere), two young LA types, as they fall in love. Gretchen is the PR manager of a rap collective that is clearly just Odd Future with a different name. Jimmy is a British novelist.
Wait, you might say, "I don't want to watch people fall in love. I'm alone. I just want to drink wine at home because this is the Tinder generation, and everyone is garbage."
That's where this show shines: They are garbage people. Just like us.
Maybe this is too much about me, but I often hate rom-coms. Rom-coms lied to us. They told us love was easy. They told us love just falls into your lap. I live in New York, and I have yet to fall into a rich architect's lap in Central Park because I am so clumsy.
"You're the Worst" embraces the fact love is hard and our generation is not particularly good at commitment or feelings.
In season one, we are introduced to two people who are absolute monsters. They meet as Jimmy ruins a wedding they are both at. We are brought into their web of intimacy issues, bad decisions, narcissism and self-destructive behavior.
They are surrounded by a smartly written and hilarious supporting cast. There's the Tyler, The Creator-esque rapper played by the adorable Brandon Mychal Smith who often acts as the unexpected voice of reason. Then there's Edgar (Desmin Borges) a veteran with PTSD who might be the only character who is genuinely a good person.
There's also the amazing Kether Donohue as Lindsay, Gretchen's best friend and party girl who married a nerd for money.
While season one is sexy, mean fun, season two really made this the best show on TV. Season one had good reviews, but by season two, critics agreed it had "universal acclaim."
While each episode has funny situations and plots, the season arch is an unwavering and very real look at clinical depression. It at times seems endless. It stays funny and raw in spite of this, though.
This brings us to season three, which premiered on August 31. Who knows what it will bring, but there are already hints it will focus on Edgar and his problems with PTSD -- so, you know, super fun light stuff coming up.
While it might seem like a downer, there is so much humor packed into every line, the script reads like "30 Rock."
While we have had a lot of shows that make New York City a character, this one does the same thing to LA. But what makes this show a true masterpiece is the fact that it's a love letter to our generation. Love is hard, we are bitter, we all want creative jobs, we don't want to settle down or become boring and we have issues with intimacy and love.
Do yourself a favor and start watching because, after all, this is a show about you.