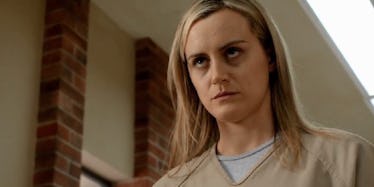 Netflix Revealed A Major Clue About Piper In 'Orange Is The New Black' Season 5
Netflix
We're a mere four days away from the June 9, Season 5 premiere of Orange is the New Black and fans are on the edge of their seats waiting to find out what happens in Litchfield next.
(Unless you're one of the fans who watched the illegal leaks from the hackers. Then you're probably sitting pretty comfortably. Also, no spoilers in the comments, please and thank you.)
But as for us goody two-shoes fans, we're on the edge of our seats — especially when Netflix keeps dropping cryptic and tantalizing hints about how crazy Season 5 is going to get.
Take, for example, this new OITNB promo Reddit user LikeARoss0708 came across on Netflix this week.
The text on the image reads,
Piper Chapman doesn't deserve her prison sentence. Of course, every one of her fellow inmates thinks the same thing.
Whaaaaat?
Piper doesn't think she deserves to be in prison? That's news to me! In fact, I distinctly remember Piper telling her family back in Season 1 that she did deserve to be in prison, because she was a criminal.
So does this mean something happens in Season 5 that changes Piper's mind?
Or is Netflix just trying to allude to the general vibe that the prisoners are being treated unfairly — a vibe that definitely comes through in the most recent trailer.
Obviously, a lot of the inmates are — in the wake of the (Spoiler!) brutal murder of Poussey (Samira Wiley) — questioning the oppressive conditions in which prisoners are expected to live.
As Taystee says,
We get beat for no reason. We're stuffed four in a bunk like we're factory chickens. We're denied basic humanity.
Does this new Netflix promo mean Piper thinks she, specifically, doesn't deserve this treatment? Maybe she now thinks her crime — smuggling drug money — doesn't warrant such brutal punishment.
But does that mean she thinks someone like Taystee, who was involved in drug trafficking, does?
Piper may be the worst, but I don't think she's that self-centered. I hope, anyways.
We'll find out this Friday, June 9, when Season 5 of Orange is the New Black premieres on Netflix. Goodbye, weekend!