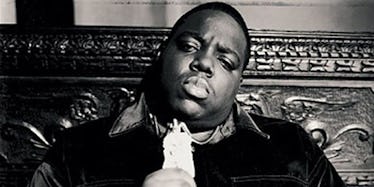 It's Official: There's A Notorious BIG Hologram Coming In The Near Future
Wikimedia Commons
Ever since the Tupac hologram debuted at Coachella back in 2012, everyone has had the same question: When's Biggie coming back?!
Well, let us be the first to tell you, the Notorious BIG hologram is coming... very motherf*cking soon.
According to Billboard, ARHT Media and ByStorm Entertainment have secured the digital rights to the Christopher Wallace hologram.
This deal has been in the works for nine months now, and with Wallace's late wife, Faith Evans, announcing their duet album, The King And I, set to come out soon, we can bet Biggie's hologram will be a part of it.
BIG's mother, Voletta Wallace, is elated with the news and told Billboard,
This project has been a long-time coming, and it is very special to me. Words can't even capture how elated I am for the world to finally see my son again on stage and beyond. Christopher's impact and legacy will not only live through his past work, but also the new experiences which have been made possible through ARHT Media.
As for capturing a very realistic Biggie, ARHT CEO Paul Duffy explains they'll be paying close attention to the details. He said,
We'll use input from virtually anywhere so we'll talk to people, we'll obviously look through existing footage. We'll meet with family members and just look to alternately capture the essence of Biggie. Then we'll have their eyes on all the content and material that's being built. Of course, nothing would be released until they felt comfortable and signed off on it.
Whether or not this hologram will go on tour with the Tupac hologram has yet to be discussed. But if so, it's truly a wrap for all of today's new rap artists.