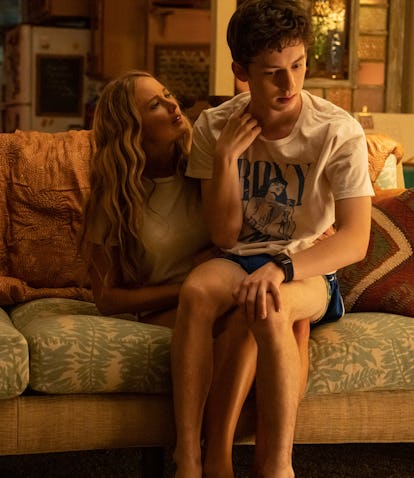 The No Hard Feelings Team Defended The Movie's Controversial Dating Story
"We took great pains to be careful about the ick factor."
Sony Pictures
Movie fans are crediting No Hard Feelings with bringing back raunchy, R-rated rom-coms, but it's also sparked a bit of controversy due to its central relationship. Sure, a 32-year-old dating a 19-year-old is uncomfortable, but that's also the point of the comedy. The writer-director of the film, along with its stars, defended the age gap in No Hard Feelings, detailing how they approached the potential "ick factor" of Maddie and Percy's relationship.
In No Hard Feelings, Jennifer Lawrence plays the 32-year-old Uber driver Maddie, who responds to an unusual Craigslist ad from a mother and father searching for someone to date their 19-year-old son Percy before he goes off to college. Maddie secretly plans how to seduce Percy with his parents, who agree to give her their car if she has sex with him. The premise is actually based on a real Craigslist ad, which inspired writer-director Gene Stupnitsky to create a whole plot.
When asked if he was concerned audiences would find the relationship "creepy," Stupnitsky was confident viewers would be able to laugh at the awkwardness. "If you feel that way when you come out of the movie, I would be surprised," he told The Hollywood Reporter. "We took great pains to be careful about the ick factor because it could go that way. … We took a humanist approach and I think that's all you can ask for."
Stupnitsky went on to point out that there wasn't any concern about the age gap in Jennifer Lawrence's 2012 romantic drama Silver Linings Playbook, which she co-starred in with Bradley Cooper, who is 16 years older than her.
No Hard Feelings star Natalie Morales also highlighted that double standard. "Have you seen The Graduate?" Morales asked. "There are so many movies where the male lead is much older than the female lead, and TV shows especially, and nobody bats an eye. So what's the difference."
Laura Benanti, who plays Percy's over-concerned mother, said the movie should be viewed as a "cautionary tale" about the harmfulness of coddling parents. "If you are a helicopter parent who puts your child in such a bubble, they do not know how to exist outside of that bubble, you are going to make the exact opposite and insane choice, which is what they are doing here," Benanti told The Hollywood Reporter. "I feel like it is a very satirical look at what can happen if you do not give your children a longer leash to figure things out for themselves. Otherwise, you're going to end up curating their life forever."