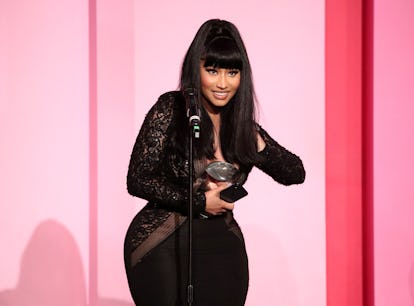 Nicki Minaj's New Album Is A Continuation Of This Pink Classic
This is a win for the Barbz.
Rich Fury/Getty Images Entertainment/Getty Images
It's been nearly five years since Nicki Minaj released an album. Her last full-length effort (2018's Queen) saw the rapper protecting her rap crown with clever — and sometimes, muddled — one liners. She's steadily built upon her legacy with pop-centric bops and Tik-Tok approved verses since then, but the Barbz still craved for Minaj to release an album. She listened to her fans' request, and surprise announced her new era on June 5. Recently, Minaj provided more details about the album and it appears to be an ode to one of her classic eras.
On June 29, Minaj shared on Instagram that her upcoming album will be named Pink Friday 2, a follow up to her debut album of the same title. She also shared fans will have to wait a bit longer to hear what she's cooked up. "Dear Barbz, I've been trying to find the right time to tell you this for a few days. Due to some really exciting news that I'll share with you guys @ a later time, I've shifted the album date just a tad bit," Minaj wrote, adding the new release date is Nov. 17, 2023.
This date differs from her original album announcement on Twitter. Earlier this month, she teased the record (which was unnamed at the time) would arrive on Oct. 20. Minaj didn't clarify the reasoning behind the new date; however, she insisted "it'll be well worth the wait."
The Pinkprint rapper continued, thanking the Barbz for the "years of support and love" before dropping another surprise: She's going on tour in support of the album. "I will give tour deets closer to that time, but obviously the tour will start around the first quarter of 2024. I'll also share the real album cover at a later date," she ended the post.
This new album's title shocked fans, as they didn't expect Minaj to resurrect such an iconic era from her discography. Her 2010 Pink Friday record introduced Minaj's lyrical prowess to a broader audience, as many were already sold by her talent from her previous mixtapes. She also brought her quick-witted alter-ego, Roman Zolanski, along for the ride. You know, the pink-haired bandit from London who gave pop culture *the* iconic line: "Pull up in the monster, automobile gangsta / With a bad b*tch that came from Sri Lanka" from Kanye West's "Monster" remix.
It's not confirmed if Zolanski — or her other raucous personas — will make an appearance on the album. Nonetheless, fans are excited for the rapper's new era. Here's everything to know about Minaj's Pink Friday 2 and her tour.
Pink Friday 2's Release Date
Nicki Minaj's upcoming album will now drop on Nov. 17, 2023.
Pink Friday 2's Tracklist
Minaj has not revealed a tracklist for Pink Friday 2.
When Does Minaj's Tour Begin?
Minaj hasn't revealed the exact date (or the official name) of the tour. However, fans can expect the shows to premiere in 2024.