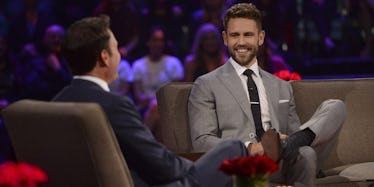 Nick Viall Reveals Whether Or Not He'd Do Another 'Bachelor' Show
ABC/Michael Yada
Finding love on national TV doesn't appeal to everyone, but there's at least one guy who has tried to do it more than once. Actually, more than twice. Now that he finds himself single, will Nick Viall do another Bachelor show? In an exclusive interview with Us Weekly, the franchise alum admits that's it's probably not in the cards, even if he has #noregrets about his experiences.
Nick put himself through the public emotional ringer and he recently announced his broken engagement to Vanessa Grimaldi. He revealed to Us, "I'm definitely done with that," referring to the show, but he has nothing but good things to say about his former lady love and the series that got him to the place in his life he is today.
I'm very thankful for everything. I don't have regrets. I don't have any regrets. There are still a lot of positive things that came from it, especially my relationship with Vanessa.
Bachelor Nation has gotten used to seeing Nick around over the past few years, and recent events had everyone speculating whether or not he would be back for more. Alas, those days are gone.
Nick has been keeping his head up since the split, also revealing that he still has love for Vanessa, even though the two are just pals these days.
Vanessa broke her post-split silence  via an Instagram post yesterday that reminded us all, "It's OK to cry." The Canadian special education teacher relocated to Los Angeles to be with her fiance -- will she return to Montreal now that she's no longer attached? It appears she's kept busy on both the West Coast and her hometown this summer.
We're not sure what exactly is in store for the former Bach contestant. Maybe she'll hit up Paradise next summer. But we now know for sure that Nick Viall has ended the long chapter in his life that is The Bachelor. And what a journey it's been.