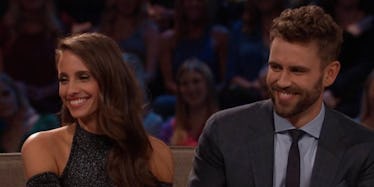 Vanessa Grimaldi Breaks Silence On 'Bachelor' Nick Viall Breakup: "It's Okay To Cry"
ABC
Following the announcement last week that Nick Viall and Vanessa Grimaldi were calling off their engagement, one-half of the pair is speaking out about calling it quits. And Vanessa's reaction to her breakup with Bachelor Nick Viall will definitely hit you in the feels. In an Instagram post on Monday, Aug. 28, Grimaldi got emotional about the breakup and said,
It's okay to feel broken. It's okay to cry. It's okay to lean on a friend. In the end, it will always be okay.
In the photo, you can see Grimaldi resting her head on a friend's shoulder. Grimaldi and Viall announced their breakup on Friday, Aug. 25, in a statement to E! News. The joint statement said,
It's with a great amount of heartbreak for the both us as we have decided to end our engagement. We gave this relationship our all and we are saddened that we did not get the fairytale ending we hoped for. We will continue to be there for each other no matter what. This hasn't been an easy decision, however, as we part ways, we do so with lots of love and admiration for each other.
Unfortunately, a lot of fans of The Bachelor weren't too surprised that Viall and Grimaldi broke up. They seemed miserable from the start, and fans caught on really quickly. They had been engaged since the season finale of season 21 of The Bachelor.
Grimaldi is a special education teacher from Canada, but she relocated with Viall to L.A. after their engagement. A source close to the couple told Us Weekly back in April that Viall and Grimaldi were fighting a lot because they were both so headstrong. They said, "Vanessa is no pushover. She's not going to just do whatever he wants. He's attracted to that, but it makes their relationship volatile."
Bachelor Nation wasn't too surprised by the breakup, but some were still sad the couple couldn't make it work, especially since Bachelor alums Ben Higgins and Lauren Bushnell broke off their engagement back in May. Still, most Bachelor fans saw this breakup coming.
But just like anyone should do after a breakup, it looks like Grimaldi is taking time to heal. Now we'll just have to wait and see if Nick will ever post something addressing the breakup.