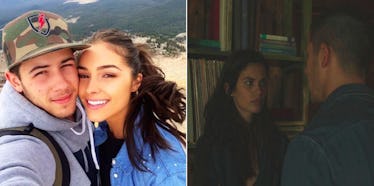 Nick Jonas' Emotional New Video Is Apparently All About His Ex Olivia Culpo
Nick Jonas just released his new music video for the song "Chainsaw," and it's steamy AF.
In it, Jonas dwells on a past relationship with someone and reflects on the times they spent together. The entire thing is pretty emotional because he's clearly heartbroken over WHATEVER went down with this girl.
It's also pretty hot, not gonna lie. Things get super sexy halfway through the video.
According to Vogue, Jonas hinted the song is, in fact, about his ex-girlfriend Olivia Culpo. The magazine points out the similarities between the music video's female co-star and Culpo as well.
When discussing the video and his past relationship, Jonas told Out magazine,
It became very clear what it was going to be about, after the breakup. I just dove in headfirst and wrote about all of it. I think it was the most meaningful relationship I've ever been in.
It definitely feels that way. I mean, even the lyrics are super powerful.
Nick Jonas and Olivia Culpo were a pretty adorable couple. Will they someday get back together? WE CAN ONLY HOPE.
If you've ever been through a breakup or are still thinking about your ex, I suggest you grab a tub of ice cream before watching the video.
And, Nick, I'm here for you if you need anything. Really, call me.
Citations: Nick Jonas 'Chainsaw' Music Video (Vogue)