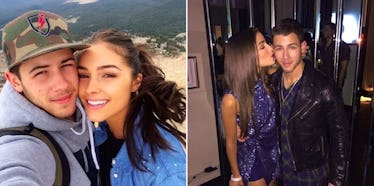 21 Reasons Olivia Culpo And Nick Jonas Should Get Back Together ASAP (Photos)
Instagram
It looks like Olivia Culpo is back on the market after a recent split with NFL star, Tim Tebow.
According to sources, Olivia ended things with Tim because of the lack of sex in their relationship because Tim is a big proponent of abstinence.
The rumors have not been confirmed, but we do know this couple is over.
The good news, however, is Olivia is as single as can be and so is ex-bae Nick Jonas. Hmm, two single people in the world who have excellent chemistry and a sh*tload of romantic history... what could that mean?
IT MEANS THEY SHOULD CUT THE CRAP AND JUST GET BACK TOGETHER. WE MISS THEM, OK?
Here are 21 reasons Olivia Culpo and Nick Jonas need to take a second stab at love.
1. They always took the cutest photos that showed how much they loved each other.
2. And they also did the cutest poses. Just look at these lovebirds.
3. They went on fun dates, like that time they went to a baseball game.
4. And, of course, when they went on a hike and basically explored the world together.
5. They took adorable Christmas card photos. It's like they were married, for God's sake.
6. I mean, they held hands and walked down the aisle in church. Can you hear the bells? Because I can.
7. Olivia was just so in love with Nick. She couldn't keep her hands off him.
8. And Nick was so in love with Olivia. He couldn't keep his eyes off her.
9. Does this not scream, "RELATIONSHIP GOALS"?
10. Just, wow. They always looked like absolute perfection during any awards show.
11. Nick even serenaded her during one. LOVE IS REAL, YOU GUYS.
12. Tell me this isn't the most magical kiss you've ever witnessed in your life.
13. Their hands were even made for each other. It's just beautiful, OK?
14. Meghan Trainor got to third-wheel them.
15. Taylor Swift got to third-wheel them.
17. WE ALL PRETTY MUCH GOT TO THIRD-WHEEL THEM BECAUSE LOOK AT THIS.
18. They were born on this world to meet. Can you feel the love tonight?
19. Nick would rather put his hands in Olivia's lap than on the steering wheel. PRECIOUS.
20. And remember when Olivia starred in Nick's music video for "Jealous"? Couple goals, man. Couple. Goals.
21. Plain and simple, Nick and Olivia are meant for each other and should just get back together now.
Please?
Citations: Olivia Culpo Tim Tebow Split (Hollywood Life)