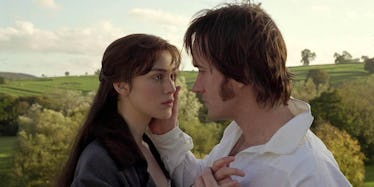 12 Movies That Are Perfect To 'Netflix And Chill' To On Valentine's Day
Focus Features
You're watching a movie together, it's dark in the room, it's a boring scene in the middle of the second act and there's a bed right over there... So... *wink, wink* *nudge, nudge* *inappropriate hand gesture*
Yes, "Netflix and chill" definitely works, and it could be a great Valentine's Day plan for you if you're looking to ~connect~ with someone.
But it has to be the right movie to "chill" to, ya feel? If you and I are watching "Cast Away," I'm not about to tear myself away and start mackin' on you anytime soon. I need to know if Tom Hanks ever reunites with his volleyball!
So, please enjoy this list of romance films currently available on Netflix that will definitely optimize your "and chill" prospects.
1. "Bridget Jones's Diary" (2001)
This movie is possibly one of the greatest romantic comedies in cinematic history. It's smart and fun, and it also follows every rom-com cliché to a tee, which will make it easy to pause if things start heating up. But then, you have to promise to go back and watch the Colin Firth kiss at the end because it's incredible.
2. "Notting Hill" (1999)
Speaking of cliché British rom-coms starring Hugh Grant, this one is also a classic. Watching Hugh Grant trip over himself trying to impress a gorgeous movie star (Julia Roberts) as if he isn't ALSO a gorgeous movie star is damn good entertainment.
3. "Pride & Prejudice" (2005)
Just added to Netflix last month, "Pride & Prejudice" is arguably the greatest romance of all time. Sadly, the 2005 version doesn't have Colin Firth in it, so it's not quite as good as the series from the '90s, but Keira Knightley being gorgeous and talented almost makes up for that.
4. "Shakespeare in Love" (1998)
What's more romantic than historical fanfiction about the greatest romance author of all time? It's not true, but imagining an epic love story that inspired Shakespeare to write "Romeo and Juliet" is pretty fun stuff, especially for the literary nerds you might be trying impress.
5. "Silver Linings Playbook" (2012)
This one is slightly less conventional but still very much a romance. I would argue this is Bradley Cooper, Jennifer Lawrence and David O. Russell at their best. Despite its rough edges, it's quite a touching film at its core.
6. "Drive Me Crazy" (1999)
What romantic-movies list is complete without a teen romance? This movie is named after the Britney Spears song it features -- if that gives you any indication of how fun it is (very). Melissa Joan Hart is a delight throughout this entire film.
7. "Serendipity" (2001)
It's John Cusack, so it's classic. The movie is maybe not Cusack's best romance, but it's definitely worth watching. And after you watch it, you can make a visit to the real Serendipity restaurant in New York City on 60th street.
8. "Grease" (1978)
Maybe you recently watched "Grease: Live" and are seriously missing that John Travolta magic. If that's the case, return to the original on Netflix. Sure, it doesn't end on a great message -- assimilate for those you love -- but hey, hopefully you'll be "chilling" before you get to that part.
9. "Something New" (2006)
Thank God "Something New" exists among the plethora of white people falling in love in the romantic-comedy world, honestly. This film that deals with the obstacles of an interracial romance never got the recognition it deserved, so definitely check it out while you have the chance.
1o. "Chocolat" (2000)
This lesser-known Johnny Depp film is an expert blend of romance, comedy and drama. Plus, it takes place in France, AND it's about chocolate, so it doesn't get much more Valentine-y than this.
11. "Sliding Doors" (1998)
This rom-com with a twist is perfect if you're looking for a romance a little off the beaten trail. Taking place in two parallel universes, it will both move you and really make you think.
12. "Along Came Polly" (2004)
OK, it's not the BEST romantic comedy out there, but I think we can all agree Jennifer Aniston is pretty hot in it.