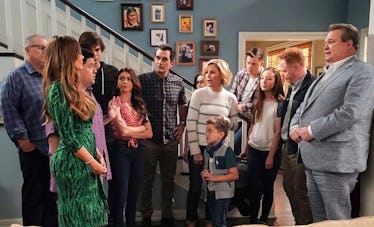 The Modern Family Cast Reunited, Except 1 Star Was Missing
This is so personal to me.
ABC
Turns out, your favorite TV family is also the most adorable chosen family IRL. More than three years after Modern Family ended, the sitcom's ensemble cast is still closer than ever, and they proved it by having a huge reunion full of fun pics and videos. Sadly, one member of the cast couldn't make the event, so the rest of his TV fam made sure to include him in the best way possible.
Nov. 15 marked the "first Modern Family reunion," as Sofia Vergara dubbed the get-together. The event took place at Vergara's house, where the long-running sitcom's sprawling cast of busy stars made some time to drink wine, take selfies, and reminisce about their 11 years playing a sometimes-dysfunctional-but-always-lovable blended family on Modern Family.
Vergara shared tons of pics from the night, including selfies that showed off everyone in attendance: Sarah Hyland, Ariel Winter, Nolan Gould, Jesse Tyler Ferguson, Eric Stonestreet, Julie Bowen, Ed O'Neill, Rico Rodriguez, Aubrey Anderson-Emmons, and Modern Family co-creators Christopher Lloyd and Steven Levitan.
However, amidst all the partying, fans couldn't help but notice that one very important face was missing from the pics.
Sadly, Ty Burrell couldn't complete the Dunphy-Pritchett clan by attending the reunion, but his TV fam didn't forget about him. They took photos with a portrait of Burrell in character as everyone's favorite happy-go-lucky dad Phil Dunphy, and even recorded a video of everyone proclaiming how much they missed him at the party.
The big reunion also included some heartwarming smaller reunions, as Ferguson snapped pics of each of the show's central families posing together. He, Stonestreet, and Anderson-Emmons gave fans a grown-up pic of the Pritchett-Tucker fam.
While Vergara reconnected with her TV family, O'Neill and Rodriguez.
And although they were missing Burrell, the rest of the Dunphys still pulled off a cute family moment as Bowen, Hyland, Winter, and Gould reunited for a photo.
Since Vergara made sure to emphasize this is the first Modern Family reunion, hopefully she's planning another one sometime soon so Burrell can get in on the love in person.