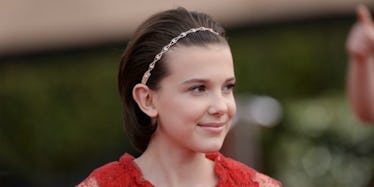 Millie Bobby Brown Was Just Snubbed At The 2017 Emmys & We're So Sad
REX/Shutterstock
Some of you may be feeling like the 2017 Emmys snubbed Millie Bobby Brown, but this was simply an incredibly solid year for new TV series featuring bad*ss women, including Ann Dowd who took home the Emmy — or, as of tonight, winged RuPaul — for Outstanding Supporting Actress in a Drama Series, for her insane performance as Aunt Lydia in The Handmaid's Tale. Talk about an Emmy category loaded with Halloween costume ideas. From Eggo-toting Elevens and hooded handmaids, to corseted robot "hosts" and prison jumpsuits, I predict 43 percent of this year's Oct. 31 outfits will be derivative of this year's Emmys Outstanding Supporting Actress nominees.
A critic fave and surprise upset, Dowd won out in a category dominated by newcomers, with the exception of Orange Is The New Black's undeniably brilliant Uzo Aduba, who took home the statue in 2015. She also took home the Supporting Actress in a Comedy Series award the year prior for the same role — the Television Academy seems a little confused about what to do with OITNB.
Last year's winner was Maggie Smith of Downton Abbey, who is no longer eligible now that her show is off the air. In addition to Aduba, Dowd was up against fan-favorite Millie Bobby Brown for her performance as Eleven in Stranger Things, Thandie Newton for her performance as Maeve in Westworld, Chrissy Metz for her performance as Kate Pearson in This Is Us, and Samira Wiley as Moira in The Handmaid's Tale.
It's no wonder the Outstanding Supporting Actress in a Drama Series was such a stacked category this year. From The Handmaid's Tale to Stranger Things, women in both large and small roles dominated the small screen in 2017, which, to be honest, feels pretty great after that whole Nov. 8, 2016 debacle. Can you imagine if the women of Big Little Lies were included in this category as well? (No worries, though. They were nominated a bunch within the Limited Series category.)
The Television Academy, usually traditionalists, did not stick to the script when it came to Supporting Actress in a Drama Category, and Dowd's overwhelmed reaction and gratitude-filled speech served as evidence of her surprise as well.
Through tears, she said, "I know it's an actor's dream, and I'm deeply grateful to you. I've been acting for a long time and that this should happen now, I don't have the words." Her emotional response was super touching, and her shout out to co-star Elisabeth Moss was even more adorable. The two play opposite each other on The Handmaid's Tale — Moss plays a handmaid who has been kidnapped, while Dowd plays a violent woman who keeps the handmaids in place — so witnessing their admiration for each other was very sweet.
The upset was reminiscent of Tatiana Maslany's 2016 Best Actress win for Orphan Black. Thandie Newton of Westworld was widely predicted to win, and fans were rooting hard for Millie Bobby Brown, the undeniable breakout star of the year.
Don't be too sad, though, because Brown will likely be nominated in years to come — after all, she's only 13. Had Brown won tonight, she would have been the youngest Emmy winner of all time. (In 1984, Roxana Zal won for her supporting role in the TV movie Something About Amelia at 14 years old.)
Ann Dowd is a phenomenal talent whose spooky performance as Aunt Lydia deserved to take home the trophy — don't @ me. Dowd missed out on the chance to win for her guest spot on The Leftovers, which she was also nominated for this year, so this was a great surprise.
While 2017 wasn't the year for leading women in the real world (sorry, Hill), it was certainly a year for powerhouse supporting roles. (Shout out to senators Murkowski and Collins, the women who sunk Trumpcare.) Women like Ann Dowd are exactly the women we need on screen heading into 2018.