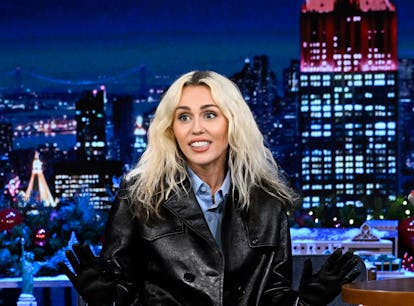 Miley Detailed What A Full Day Of Hannah Montana Press Was For Her
This is so not the best of both worlds.
NBC/NBCUniversal/Getty Images
Miley Cyrus' new song may be called "Used to be Young," but it sounds more like she never really got to be young at all. As a part of her reminiscent TikTok series to promote the new single, Cyrus looked back on one of her daily schedules from when she was doing press for Hannah Montana. She would have just turned 14 at the time, which is what makes the already grueling 13-hour work schedule even more shocking.
In her TikTok video, Cyrus read her itinerary for Jan. 5, 2007, which would have been in the middle of Hannah Montana's second season. The demanding schedule had Cyrus doing interviews and magazine shoots non-stop from dawn until dusk. Here was her full day as she laid it out:
5:30 a.m. — Hair and makeup
7 a.m. — Picked up from hotel
7:15 a.m. — News broadcast appearance
7:45 a.m. — Live interview
8:15 a.m. — Another interview
8:45 a.m. — Another interview
9:30 to 11 a.m. — Meeting with editors
Around noon — Return to hotel and get interviewed by fifth-grade students
1 to 2:30 p.m. — Lunch interview with her dad
2:40 p.m. — LIFE magazine photoshoot
3 to 5 p.m. — Interview and photoshoot with Dad for a Father's Day feature
6 p.m. — Kids online interview
6:15 p.m. — Another interview
Cyrus went on to suggest this was not an atypical day for her at the time. "Then the next day starts at 7 a.m. and ends at 7:30 p.m.," she added. "When I fly home to probably go to Hannah [Montana], and then Monday be back at work in the morning."
Cyrus has been open about how her tenure as Disney's teen queen on Hannah Montana wasn't always the sparkly pop-star fantasy it seemed to be, admitting she developed an identity crisis and struggled with her mental health at the time.
But now, Cyrus is enjoying a more stress-free lifestyle on her self-proclaimed Endless Summer Vacation. "I'm a lot of things but lazy ain't one of them," Cyrus remarked after reading her schedule. "So, I do think this girl deserves a little endless summer vacation."