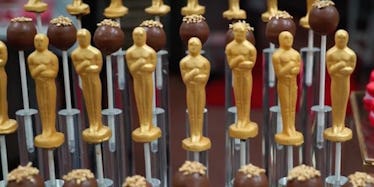 The Menu At This Year's Oscars Will Make Your Dinner Tonight Seem Pathetic
Food Steez
Everyone knows being a celebrity has its perks, especially during awards season.
Celebs always get invited to the best award show parties in Tinsel town where they are wined, dined and showered in bougie gift bags.
If you're still salty about the fact that you're not famous enough to snag an invite to this year's Oscars parties, you might want to brace yourself.
The menu for this year's 89th Annual Academy Awards Governors Ball — the official post-Oscars party — was just revealed, and these divine dishes are guaranteed to give you a serious case of food FOMO.
The theme of this year's Governors Ball is "magical transformation," and celebrity chef Wolfgang Puck has elected to take on the task of dishing out a variety of enchanting eats to the 1,500 A-listers expected to be in attendance.
If you're dying to know exactly what your favorite stars will be eating, you'll be glad to know that our friends over at Food Steez recently had a chance to meet up with Wolfgang Puck to talk about his 23rd consecutive year of catering this star-studded event.
This year, Puck has created an Oscars menu that includes over 50 dishes consisting of hors d'oeuvres and small-plate entrees.
Guests will be able to snag their favorite sashimi from the sushi station...
Stuff their faces with black truffle short ribs...
Nosh on smoked salmon "Oscars" topped off with caviar...
Munch on mini kobe beef burgers....
...and feast on tiny lobster tacos that look tasty AF.
The menu also includes a variety of delectable pasta dishes...
...including an agnolotti pasta with black truffle and a celery-apple filling.
Plus, a variety of small snacks that range from gold-dusted truffled popcorn and homemade pretzels with pimento cheese to parmesan crisps with filet mignon.
Since no meal is complete without dessert, the party will also have several dessert stations filled with everything from cookies to chocolate peanut butter tarts.
Not to mention, a bunch of opulent chocolate Oscars covered in 24-karat-gold.
Wolfgang Puck commented on his edible Oscars, saying, "Nobody will be a loser with us, everybody will get something."
Puck will be working with a team of 300 people divided across two kitchens on Sunday and revealed that "it really takes a village to do the whole party."
But despite the challenges of catering this massive event, Puck says, "I love the Oscars. I think this is the greatest party in the world."
Check out the video below for a closer look at the food your favorite stars will be eating at the 2017 Oscars after-party.
And make sure you tune in for the Oscars this Sunday, February 26 at 8:30 pm on ABC to see who will be taking home the real Oscars gold.