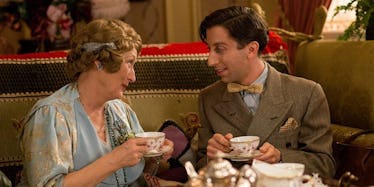 The Ultimate 2017 Oscars Drinking Game To Play During The Show
Paramount Pictures
The Oscars will air this Sunday, making February 26 officially my favorite day of the year.
I wait all year for the Academy Awards. I plan out the food I'm going to make for my guests, painstakingly choose winners for my yearly Oscars game against my friend Molly and attempt to watch all of the films leading up to the big day.
So, yeah. You can say I take the Oscars pretty seriously, and I always have.
I've loved movies for as long as I've loved books... aka my entire life. I'm part of the "let the Disney movie do the babysitting" generation and come from a family who always loved movies. My love for cinema has only intensified over time.
But now I can take my Oscars game up a notch by incorporating alcohol.
I can scream at my TV about the wrong person winning. I can stuff chips in my mouth and cry because of a speech all at the same time.
It's a wonderful new layer added to my viewing experience, and I want to include you in on the fun, my of-legal-age friends!
If you're tuning into this year's Oscars telecast hosted by Jimmy Kimmel, let's get a few rules down for a bubbly version of the night!
One Drink For Meryl Streep
Look, as the most nominated person in Oscars history, and as a nominee this year for "Foster Florence Jenkins," it's inevitable this little lady will be sitting front row.
It's also incredibly likely they will pan to her frequently for reaction shots... because she's Meryl Streep.
Taking a shot is honestly a one-way street to alcohol poisoning, so we're going to settle for a small drink each time they pan to Meryl.
Two Drinks For Music
As we have all seen over the course of literally every awards season ever, the feeling of winning any award, especially an Oscar, can be overwhelming. This leads to a fumbling speech that can sometimes run too long.
Producers do not take kindly to this and frequently cue the music before someone is done speaking.
This will happen more than once, so have a second drink ready... or third. Whichever point you're at.
Three Drinks To Politics
In this political climate -- and based on past acceptance speeches like Meryl's at the Golden Globes and Sarah Paulson's at the SAG Awards -- stars will be using this platform to raise awareness for important issues.
When this happens, take three drinks and discuss what Monday's headlines will be about. Will the speeches go over well? Discuss.
A Shot For Awkwardness
It is absolutely inevitable there will be, at more than one point, an awkward silence or smattering of laughter when the host or a presenter makes a joke that simply does not land.
There is no way around this, so we must take a shot for all of the audience members who have to suffer through it and hope their reactions don't wind up on TV.
A Shot For Losing
Before the winners of the main categories (Lead Actor and Actress, Supporting Actor and Actress and Best Picture) are announced, choose who you think will win.
If you're right, you get to move on with the game. If you lose, you have to take a shot. If you've been paying attention this awards season, this one should be cake!
If the camera pans to Chrissy Teigen (husband John Legend will be performing an original song from "La La Land") and you know her face is going to find its way into the GIF reaction/meme universe faster than you can grab your phone, take a shot.
Chug A Drink For Falling
If Jennifer Lawrence is there, the likelihood of this skyrockets. If not, there's still a chance someone will totally eat it walking up those stairs or across the stage.
Things go wrong all the time. If you see someone fall, the drink has simply got to go.
If you keep these simple rules in mind, you may not make it to the end of the show.
Be sure to tailor the rules to your own liking and remember it's about appreciating the beauty and magic of cinema, losing ourselves in the entertainment and recognizing those who allow us that luxury...
Or just getting drunk on a Sunday. Up to you.
Enjoy and make sure to follow Elite Daily on Twitter to watch our Oscars reactions!