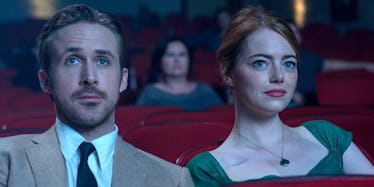 The 2017 Oscars: Here's How To Watch And Live-Stream The Show
Summit Entertainment
EVERYONE, QUICK.
Get the hell off the internet and get yo' ass to a movie theater ASAP.
You only have one week left to see the 2017 Oscar-nominated films before the 89th annual Academy Awards airs live next week.
That's right, the year's biggest awards show is set for this Sunday, February 26.
If you've been living on another planet and have no idea how to watch or live-stream the show, then don't worry... we've got you covered.
For starters, the 2017 Oscars will premiere on ABC at 8:30 pm ET. If you're looking to watch the red carpet coverage, that all starts around 7 pm ET.
If you're a die-hard movie fan (or just literally have no life), you can stream People and Entertainment Weekly's red carpet pre-show starting at 5 pm.
Yeah, grab your coffee cup. It's going to be a long night.
People's program will be available on all streaming devices including Apple TV, Roku, etc. All you need to do is download the PEN app.
If you plan to live-stream the actual awards show, you can watch online at abc.com or use the ABC app.
Got all that? Good.
The Oscars ceremony will take place in the Dolby Theatre at the Hollywood and Highland Center in Los Angeles.
Jimmy Kimmel will host the Academy Awards for the first time and shared his excitement on Twitter back in December.
He wrote to fans,
Yes, I am hosting the Oscars. This is not a prank. And if it is, my revenge on @TheAcademy will be terrible & sweet. Thx to @alsformalwear.
Do your thang, Jimmy. You're going to kill it.
In terms of Oscar nominations, "La La Land" scored the most with 14, while both "Arrival" and "Moonlight" earned eight.
It'll definitely be a competitive evening, and I can't wait to watch the drama unfold.
OoOOoh, drama. Hehehe, I live for this shit.
Be sure to watch the 2017 Academy Awards on Sunday and follow Elite Daily on Twitter, Instagram, Snapchat (EliteDailySnap) and Facebook for more awards show coverage.
Citations: Oscars People Red Carpet Show (People)