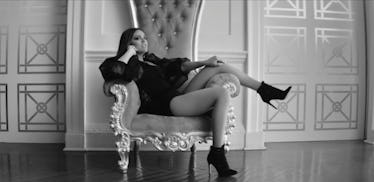 Melania Trump Can't Take It Anymore In This Epic 'SNL' Parody Of 'Sorry'
YouTube
Melania Trump went all-out Lemonade on us in the latest episode of "Saturday Night Live."
She didn't hold ANYTHING back, and all we can say is "OOHHH snap." Melania has had enough. Simply put, she "can't take it anymore."
First and foremost, when I say Melania Trump, I actually mean Cecily Strong, an "SNL" leading lady. Her impersonation of Melania through her "Melania Moments" sketches has been going strong on the show for a while.
This weekend, the audience got a little bit of Queen Bey's Lemonade action thrown into the show's mix. They appropriately titled their Beyoncé parody "Melanianade."
In the video, the women switch up the lyrics to "Sorry," made iconic by Queen Bey herself, along with her good pal Serena Williams.
My main girl Emily Blunt was also a major part of the sketch, taking on the roll of Ivanka Trump.
Blunt and Strong starred in the sketch along with Alec Baldwin (Donald Trump), Kate McKinnon (Kellyanne Conway), Sasheer Zamata (Omarosa) and Vanessa Bayer (Tiffany Trump).
All of the women in Donald's life are singing about why they're so fed up and have had enough.
And unsurprisingly, Donald Trump isn't so happy with "SNL" because of it.
Here are some of the highlights of the sketch:
Melania and Ivanka crack the heck UP after Melania tells Donald, "Fix your bald spot, I've had enough."
Ivanka holds a Donald bobblehead and sings, "Tell him, 'Boy, bye.'"
Kellyanne dropped the classic "You're fired" line up in there.
Melania takes a bat to Donald's face on a TV screen while casually rocking sunglasses in the house. Because, why not?
A sad-looking Mike Pence makes an appearance, sitting in a dainty cross-legged position.
Then the entire squad comes together and gets hardcore fired up, looking fierce AF.
The Donald's hair even gets a cameo.
I have never been one to spoil an ending. Where's the fun in that?!
But I WILL reveal that Melania says, "I wrote that all by myself," toward the end because it's important to this narrative.
Nice touch, "SNL" writers. Thank you for reminding us the internet is brutal and forgets nothing, including that time Melania plagiarized her speech at the RNC.
Do yourself a favor and watch the video in its entirety. Now. Do it now.
Citations: Saturday Night Live's Melania Trump Going Full Beyoncé Is Part of the Show's Master Plan (Vanity Fair)