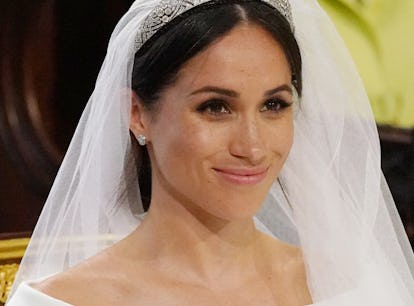 20 Photos of Meghan Markle Through The Years That Show A Royal Evolution
She's always been a princess.
JONATHAN BRADY/AFP/Getty Images
Let's be real for a sec. The dreams you have for yourself as a child rarely become reality, and sometimes that's for the best. Other times, however, the hopes you had way back then — say, wanting to be on TV or even be a princess — are meant to come true, and these photos of Meghan Markle through the years show dreaming big is never a bad thing.
A former Hollywood actor and current royal fave, Meghan, aka the Duchess of Sussex, is the type of woman you can't help but love. The 39-year-old philanthropist is kindhearted, intelligent, ambitious, pretty... the list goes on. When she joined the royal family after marrying Prince Harry in 2018, she brought an energy that, unfortunately, wasn't appreciated and led to her and Harry retiring from their senior roles in 2020 so they could escape both the red tape of the royal family and the British press' racism.
To say the least, Meghan is British history in the making. She's not only a mixed-race American woman — inspiring Black and mixed-race girls and women everywhere — but she's also a highly independent boss lady with a wildly successful career in Hollywood. She starred in hit legal drama Suits for seven long years before crossing paths with the love of her life. (That's you, Harry!)
As someone who grew up in L.A. with a cinematographer father, she aspired to act from an early age. She had other interests, too, though. At Northwestern University, she studied international studies along with theater. Thanks to her love of international relations, she studied abroad in Spain, interned at the U.S. embassy in Argentina, and was a sorority woman, too.
But no matter if Meghan is an actor, a duchess, or a full-time humanitarian, she's forever slaying the fame game — all while looking ah-mazing. From the early aughts to the present day, these photos of the Duchess will give you so much life!