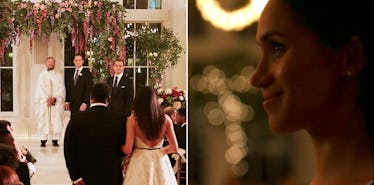 This Clip Of Meghan Markle's Wedding On 'Suits' Will Make You Tear Up
USA/YouTube
Weddings are just a natural plot device for television shows — especially in a finale when stories are getting wrapped up — but Suits' upcoming nuptials are especially significant given the timing. Rachel Zane is set to finally marry Mike Ross on the legal drama next week, and as everyone and their cat already knows, actress Meghan Markle is prepping to walk down the aisle because she's engaged to, um, PRINCE HARRY. You can't watch the royal wedding until May 19, but you can see Meghan say "I do" now. Meghan Markle's Suits wedding clip sneak peek was just released — break out the celebratory tissues.
Suits' seventh season concludes on USA next week with episodes "Tiny Violin" and "Good-Bye." Meghan Markle's Rachel Zane will be tying the knot, but she'll also be bidding adieu to the series for good... for obvious new endeavors. Katherine Heigl is slated to join the cast next season.
"I don't see it as giving anything up. I just see it as a change," Markle revealed of her Suits exit in an interview with BBC following her engagement announcement. "It's a new chapter, right? And also, keep in mind, I've been working on [Suits] for seven years. We were very, very fortunate to have that sort of longevity on a series ... I've ticked this box, and I feel very proud of the work I've done there, and now it's time to work with [Harry] as a team."
"You are the husband I've always wanted," Rachel proclaims to Ross (Patrick J. Adams, who is also leaving the series) in the emotional clip from the upcoming finale. Are you tearing up yet? Seeing Meghan standing up to say those vows — albeit fictional ones — is getting me seriously excited for her real life big day next month.
Last January, Patrick J. Adams spoke toThe Hollywood Reporter about his and Meghan's departure and how it affected their characters' relationship:
I think Mike and Rachel are two characters that there has never been any question that they're in love and that they're meant for each other and that they're willing to go to great lengths and sacrifice a ton in order to keep their relationship going. It just so happens that the timing of how I was feeling [about leaving Suits] and what was going on in Meghan's life created an opportunity where there was no need to force some conflict or tear Mike and Rachel apart. It allowed us to go on to whatever happens next for Mike and Rachel together.
Meghan has been a member of the Suits family since it debuted back in 2011. Since then, she's appeared in handful of films and TV shows, including Castle, Anti-Social, and the Hallmark movie Dater's Handbook. Naturally, the Cali native became one of the most buzzed-about women in the world when she began dating Prince Harry in the fall of 2016. Now the adorable couple is set to wed on May 19, 2018, at St. George's chapel at Windsor Castle. And you're all invited! OK, not really — but the ceremony will be televised. Just set your alarm clock.
Rachel Zane might be rocking a long A-line gown cinched with a black ribbon, but Markle's actual wedding dress has been kept seriously under wraps. In a 2016 interview with Glamour, the actress described her perfect bridal look, which might provide some insight into what to expect:
Classic and simple is the name of the game, perhaps with a modern twist. I personally prefer wedding dresses that are whimsical or subtly romantic. Delphine Manivet and Christos Costarellos are faves of mine for their uniqueness and beauty. And I will always be a fan of Ellie Saab. J. Mendel is spectacular as well, especially for more structural designs.
Cue the enthusiastic squeals. With just one month to go until the royal wedding, the world is officially counting down.