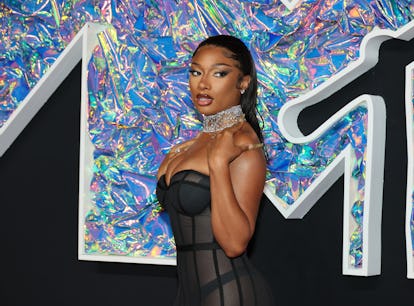 Megan Thee Stallion & Justin Timberlake Cleared Up Those Fight Rumors
That exchange at the VMAs wasn't what it looked it...
Dia Dipasupil/FilmMagic/Getty Images
The VMAs have a long tradition of creating infamous feuds. There's Kanye West vs. Taylor Swift, Nicki Minaj vs. Miley Cyrus, and now: Megan Thee Stallion vs. Justin Timberlake? Well, not so fast on that last one. Although a video of Megan seemingly yelling at Timberlake sparked rumors that the two music stars had unexpected beef, looks can be deceiving. The rapper took to TikTok to clear up what was really happening in that viral clip with Timberlake.
Just as the 2023 MTV Video Music Awards were kicking off, it looked like this year's ceremony was already delivering the drama. A backstage clip quickly blew up on social media that appeared to show Megan Thee Stallion arguing with Justin Timberlake. The quick snippet showed Megan emphatically pointing and wagging her finger at the *NSYNC star as he passed by her while she was getting her hair fixed. Viewers started to assume that there was some unexpected animosity between Megan and Timberlake because it really did look like Megan was not having whatever Timberlake had said to her at that moment.
While the video looked messy, the reality of the moment was much sweeter. A backstage source who was present for the exchange told Variety that it was actually a "very cute" back-and-forth between the music icons.
"He said, 'It's so nice to meet you,' and she said 'No, no this don't count, this don't count. We gotta meet proper," the source revealed. A second source confirmed there was nothing but love: "Meg loves Justin. She was saying 'No, no, no, we've never met before.' It was their first time meeting and she was excited."
And if there were any more questions about where Megan and Timberlake stood, Megan cleared them up with a single TikTok. The day after their viral VMA moment, Megan posted a video with Timberlake in which the two stars are clearly laughing and enjoying one another's company. "I just talk with my hands lol," Megan captioned the TikTok, explaining why her first video with Timberlake probably got misconstrued.
So, no new VMAs-induced feuds this year — Megan and Timberlake are clearly totally in sync.