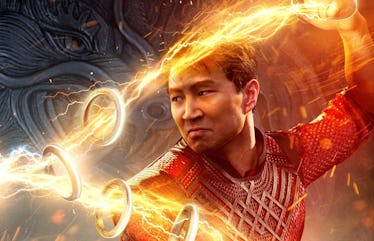 Watch These Marvel Movies Before Seeing Shang-Chi
Consider this your refresher on all the ways the new film ties into the MCU.
Marvel Studios
With the premiere of Black Widow, Marvel's Phase 4 took off in earnest after a 15-month delay due to the 2020 coronavirus shutdowns of theaters. The new era of Marvel Cinematic Universe storytelling is now five titles deep, with WandaVision, The Falcon and the Winter Soldier, Loki, and What If... also part of the new phase. But those titles told stories about characters fans already knew. With Marvel's latest release, Shang-Chi and the Legend of the Ten Rings, viewers will meet the first new superhero since Captain Marvel in 2019. But which Marvel movies should fans watch before Shang-Chi to be ready for the new arrival?
Although Shang-Chi will be the first time moviegoers will meet the Asian American superhero (and the first MCU film to star a primarily Asian cast), the character was initially introduced to comic readers back in 1973 and starred under his own banner for a decade before being retired. Like Iron Fist, who debuted a year later, Marvel created the character to take advantage of the kung fu craze of the 1970s. (Shang-Chi even wound up working with Iron Fist and Luke Cage as part of the Heroes For Hire superhero team-up.)
But like Iron Fist, the character's biography from the comics is pretty problematic. In adapting him for the big screen, director Destin Daniel Cretton rewrote much of Shang-Chi's backstory and reconfigured it for a new era.
On the one hand, that means fans who want to get to know Shang-Chi before the film don't have a lot to go on when it comes to comics. But there is quite a bit in the MCU's first three phases that help introduce this new character. Let's run down the titles to watch ahead of the new film.
The majority of the Marvel Cinematic Universe movies are streaming on Disney+, as are the Marvel One-Shots. The Incredible Hulk is streaming as a rental on Amazon.