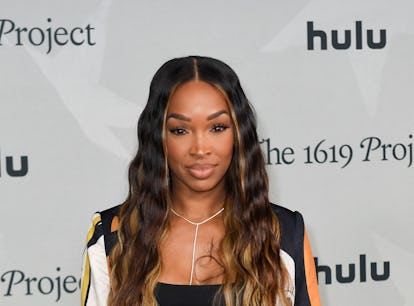 Wait, Malika Totally Just Revealed Khloé's Son's Name In An IG Comment
VALERIE MACON/AFP/Getty Images
Names are a very important thing in the Kardashian family. Famously, Kris Jenner's five daughters all have names that start with a K, but as they've began having children of their own, they've each also adopted their own unique naming conventions. Kim's kids all have names that reflect significant locations or have a religious meaning, while Kylie's children's names all fit within an atmospheric theme. As for Khloé, she confirmed all her kids will have names beginning with a T, but for nearly a year since her son's birth, that's all the info she would reveal about his name. But the mystery may be over now, because Khloé's bestie Malika Haqq seemed to reveal her baby boy's name in an Instagram comment.
Khloé gave birth to her second child with Tristan Thompson in July 2022, but in the 10 months since, she's kept the name of True's little brother a secret. The only hint she dropped was during an appearance on The Jennifer Hudson Show in April, when she confirmed her son's name starts with a T to match his dad and big sister. Shortly after that, tabloids began to report that the child was named Tatum Robert Thompson, with his middle name being a tribute to Khloé's late father. The reports went unconfirmed, though... until Khloé's best friend Malika gave them some credence.
On May 19, Khloé posted a couple photos of herself and her almost-1-year-old son. Malika's comment on the pic is what stole the show, though. "Go Tate!" she wrote, basically confirming his name is Tatum.
Although Malika's comment seems like pretty strong confirmation that Khloé's son is named Tatum, nothing is really official-official until Khloé reveals the name herself. Back in 2018, Khloé revealed True's name to the world right away, posting the name days after giving birth; it seems like she's leaning more into her sister Kylie's more secretive strategy when it comes to her second child's name.
Kylie revealed her son Aire's name right before his first birthday. With Khloé's son about to turn 1 year old in July, maybe that's when the proud mom will reveal if he really is named Tatum or not.