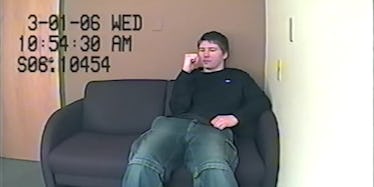 Here's The Entire 4-Hour Confession From 'Making A Murderer' (Video)
In case you already binge-watched all 10 episodes of Netflix's "Making a Murderer" and are currently feeling withdrawals, we have good news: You can now watch Brendan Dassey's entire four-hour confession.
Thanks, YouTube! Naturally.
For those who don't know the story, here's a quick recap. Filmed over the course of 10 years, "Making a Murderer" follows the legal rollercoaster surrounding Steven Avery, a man falsely accused of sexual assault.
Thanks to DNA evidence coming into play in 2003, Avery was released from prison after serving 18 years for a crime he did not commit.
Then, in 2005, Avery and nephew Brendan Dassey were arrested and charged for the rape and murder of Teresa Halbach. The conviction of Avery was complicated by the fact he had recently filed a lawsuit against Manitowoc County for losing 18 years of his life while falsely imprisoned.
As stunned viewers saw, interrogators also basically coerced Avery's nephew, Brendan, into a confession by feeding him answers.
Our mouths dropped. We felt feelings.
The facts of the case itself might be murky, but one thing is for certain: There are several hesitations amid this confession. They (the videos, not the pauses) are also fairly disturbing.
Brace yourselves and watch part one above.
Citations: Watch the 4-Hour Confession 'Making a Murderer's Brendan Dassey Made (Complex)