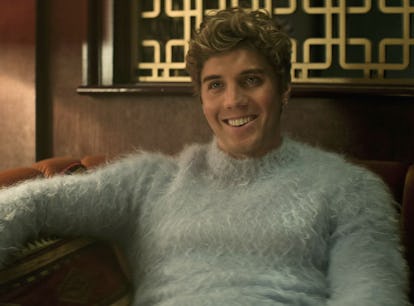 Lukas Gage Has The Funniest Story About Auditioning To Play Joe In You
Need to see this audition tape, TBH.
Netflix
Before Penn Badgley put on Joe Goldberg's baseball cap in You, Lukas Gage tried out for the part... but the audition didn't go so well. Years later, Gage finally got his full-circle moment in You Season 4 by joining the series as the kinky playboy Adam Pratt. Now, he's reflecting on how his version of Joe would have been completely different from how Badgley plays him, and it's actually pretty hilarious given how Joe became everyone's favorite serial killer.
Gage revealed that he had "auditioned for every single season of You" before finally getting cast in Season 4 in a March 9 New York Times profile. And he can see why at least one of his past auditions didn't land him the part. Gage first went out for the show's lead role, but didn't play Joe with the nuance that he now understands the part requires. "I auditioned for Joe originally," Gage recalled. "I played him like a mustache-twirling, villainous murderer, and the casting director was like, 'Yeah, that's totally tonally off, but thank you.'"
Of course, the part wound up going to Badgley, who nailed Joe's more charming side... perhaps a bit too well. Although a big element of You is showing how seductive a manipulative monster can be, Badgley has expressed his concern that viewers romanticize his character far too much. Maybe a dash of Gage's heinous supervillain version of Joe could have helped mitigate that.
Gage and Badgley also have different views on the show's more intimate scenes. Badgley requested that Season 4 remove any sexual scenes involving his character, stating that he was no longer interested in playing a romantic lead due to his fidelity to his wife Domino Kirke. Gage, on the other hand, has embraced getting sexual on-screen. He said that while he respects Badgley's viewpoint, he thinks seeing these scenes is important: "If we're showing this character [on You] who has a hidden kink and he's struggling with being honest, or a guy [on The White Lotus] who is having his first queer experience with his boss, I feel like it's a disservice to not see that."
Clearly, Gage would have brought a totally different energy to Joe Goldberg, but at least he finally got the chance to let loose in the You-niverse in Season 4.