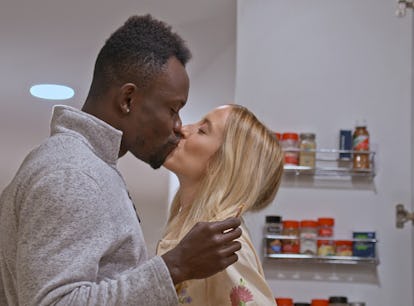 The 'Love Is Blind' Cast Sums Up Their Experience In One Word
Netflix
You have to be a certain kind of person to go on a reality dating show, especially one where you marry someone, sight unseen on Netflix's Love Is Blind. Season 4 of the dating show was a roller coaster ride for the cast members and fans alike, especially those who waited hours and hours for what was supposed to be a live reunion special on April 16 (only to have to wait until an entire day later to watch it on Netflix.) Luckily, Elite Daily's Rachel Chapman was on the Netflix red carpet for the official reunion watch party to ask the Love Is Blind Season 4 cast members how they really felt about the experience, whether they found everlasting love or not.
Although the reunion updates were somewhat anti-climatic given how long fans waited for the live stream, the cast still had a lot to say about how they really felt about dating in the pods, getting married to their partner, and what it was like to get dumped at the altar. This is what they had to say.
Tiffany & Brett
Tiffany Pennywell and Brett Brown were all smiles after the reunion taping and were still finishing each others' sentences when asked how they felt about the experience. Brett said that the experience was "life-changing," and Tiff promptly responded that that was what she was going to say. Since it's technically two words, Brett let her have one. "OK, I'm life, and you're changing," Tiffany joked.
Paul
Paul Pedan, clad in a heart-printed collared shirt, said, without skipping a beat, that he had no regrets about saying "no" at the altar. To describe his experience in one word was a little bit harder. "Oh, sh*t...one word? Ineffable? Which means, no words for it," he said. After giving us a vocab lesson, he added, "I don't know, it was so much that it's hard to compress into a single word. Or a single book. So 'expansive,'" Paul concluded. OK, bruh.
Irina
Irina Solomonova was labeled a villain early on in the season, but told Elite Daily that she would describe her experience on the show as "a learning experience." Hey, if you can't find love, you can at least learn a little something.
Micah
Micah Lussier said that while she wished people could have seen more of her and Paul's more intimate conversations on the show, she summed up the experience by calling it "messy." She's not wrong.
Kwame & Chelsea
Kwame Appiah and Chelsea Griffin were all smiles after the reunion, reiterating that there was a lot about their relationship that fans didn't get to see on Netflix. When asked to describe their experience, Chelsea said that it was "exhilarating" while Kwame called it "transcendent."
Marshall
Marshall Glaze had one of the rockiest experiences on the show. "I'm struggling to find just one word," he said. "Interesting," Marshall finally concluded.
Zack & Bliss
Zack Goytowksi and Bliss Poureetezadi came together after the pods and somehow are still together despite the drama. When asked to describe their experience in one word, Zack struggled to find something to say. He ultimately decided on "serendipitous" and Bliss firmly agreed. At least everyone seems to be on the same page here.
Additional reporting by Rachel Chapman.