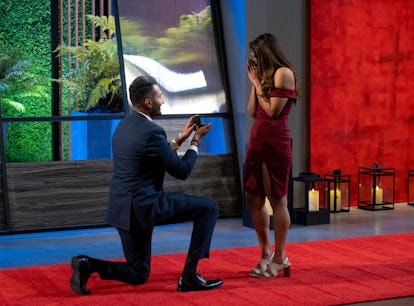 Here's Everything To Know About Love Is Blind Season 3 So Far
PATRICK WYMORE/NETFLIX
Love Is Blind first arrived on Netflix in 2020 as part of a new experiment in reality shows. After the success of The Great British Baking Show moving to a weekly schedule, Love Is Blind and its predecessor, The Circle, attempted to merge Netflix's marathon-drop format with a weekly release, with episodes coming in batches over the span of a month. The plan worked so well, Love Is Blind Season 3 is already heading this way, with Seasons 4 and 5 to follow.
Like The Circle, Love Is Blind is a reality show in which the contestants cannot see each other and have to judge their potential compatibility on mental and emotional connection alone. However, unlike The Circle, Love Is Blind is a dating show, and the no-in-person-contact rule only exists for about a third of the season. If you haven't seen it: a group of people are confined to pods where they can't see each other to participate in speed dating on steroids, then take those first impressions and decide who they'd like to follow up with. The daters only meet physically after they decide they're ready to get engaged. Beyond that, they are forced to live together until their wedding day, when they either say "I do" or "I don't" to a future together.
This blend of Married at First Sight and The Bachelor might sound like something that could never work, but the people love it.
Here's what to know about Season 3 so far.
Love Is Blind Season 3 Updates
Fans have known Love Is Blind Season 3 was going to happen since 2020, as Netflix renewed the show for two seasons right off the bat after Season 1. At the time, no date was set for release, and considering it took two years for Netflix to go from Season 1 (released in February 2020) to Season 2 (which arrived in February 2022), fans thought it might be a long wait for the third installment.
Get The Elite Daily Newsletter
You deserve emails that are actually fun — full of juicy celeb intel, astrology, helpful dating advice, and much more. Luckily, our newsletter will bring you all of that, well, daily.
But Netflix seems to be planning to put Love Is Blind on the same biannual schedule as The Circle, Too Hot To Handle, and other reality shows in its arsenal. Only a few weeks after Season 2 concluded on March 4, Netflix not only announced that Season 4 and 5 were renewed but also confirmed Season 3 will arrive in 2022.
The Season 3 reveal came along with a very bizarre music video promoting Netflix's seemingly endless slate of "reality romance" series.
Love Is Blind Season 3 Cast & Trailer
Like all Netflix reality shows, cast reveals aren't revealed until basically the last minute. This is partly to prevent spoilers from getting out, but also due to the nature of reality TV — announcing the cast far ahead of time means fans will have forgotten who they are before the first episode drops. But, on Sept. 14, Netflix did release a teaser trailer that offers some very quick sneak peeks of what's to come in Love Is Blind Season 3.
Love Is Blind Season 3 Release Dates & Schedule
Variety reported that the first four episodes of Love Is Blind Season 3 will premiere on Oct. 19, 2022. After that, Episodes 5-7 will be released on Oct. 26, 2022 and Episodes 8-10 will be released on Nov. 9, 2022, along with the finale and reunion.
Love Is Blind Seasons 1 and 2 are streaming on Netflix.
This article was originally published on