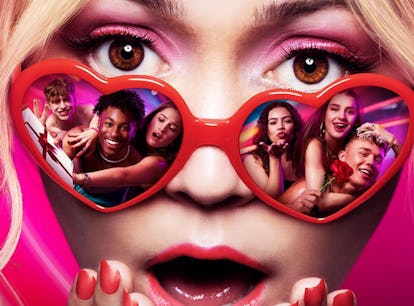 Watch The Juicy Trailer For The Pansexual Dating Show Love Allways
This is going to be SO messy!
Paramount+
The Bachelor and The Bachelorette definitely deliver juicy dating drama, but they've been missing out on a massive opportunity for decades. The reality juggernaut staunchly toes the gender binary line, and although there have been LGBTQ+ contestants in the past, Bachelor Nation has never pulled the trigger on the fully queer dating show angle fans have been hoping for. Now, Paramount+ is bringing that vision to life with their new series Love Allways. The show — which premieres on June 2 with the first three episodes — will include contestants of all genders for a pansexual bachelorette to choose from.
Love Allways promises to flip the script on the Bachelor format by including all gender identities in a wild romance experiment. At its center is Lexi Paloma, a pansexual model looking for love. Throughout the season's 10 episodes, she will go on dates with a group of single men, women, trans, and nonbinary contestants. This larger dating pool does add more layers of juicy drama to the mix, allowing viewers to choose the heroes and villains of the season. The series announcement teased that "some [contestants] start falling for one another, causing a spiral of drama, betrayal, passion, and jealousy."
Ahead of the series premiere, Elite Daily has the exclusive debut of the trailer. Check it out and other spicy details about Love Allways, below.
The Love Allways Cast
Lexi Paloma will be the bachelorette at the center of the new series. She will be looking for love in a gender-diverse group of 13 contestants: Sienna Scibird, Jasmine Cervantes, Kalysta Mallory, Camille Cupid, Rylin Utah, Jayme Aiden, Cyprien Boustiha, Marc Bateman, Tyler Hearing, Luis Diaz, Brian Batesy, Joshua Cureton, and Cameron James.
To make things even more competitive, the contestants will have a pair of relationship gurus to consult for advice, Spicy Mari and Anthony Recenello, and Mari and Recenello will also be competing to see whose mentee will end up winning Paloma's heart.
The Love Allways Trailer
If the series' announcement teaser didn't hook you in, then the trailer might do the trick. The brief video begins with Paloma revealing her "dating life kinda sucks," and she's looking to find a path to love. Mari and Recenello then lay down the love-ground rules to the contestants, who also seem to know this competition will be a wild ride.
Every clip in this trailer is juicy, stemming from the contestants flirting with Paloma and each other (again, messy), one-on-one date action, fighting, and tears galore.
Love Allways Episode Count
The full season will consist of 10 episodes. After the premiere, new episodes will drop each Friday on Paramount+ and Awesomeness TV's YouTube channel.
This article was originally published on