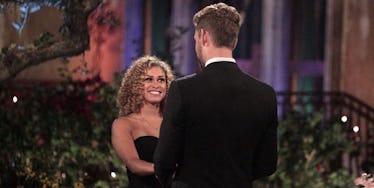 'The Bachelor' Finally Has Its First Openly LGBTQ Contestant
Rick Rowell/ABC
If you've found yourself caught in the whirlwind of all-white, all-straight reality TV storytelling — commonly known as "The Bachelor" — fear not!
Season 21 will feature a big change with the show's first openly bisexual woman vying for the heart of leading sexy meat puppet, Nick Viall.
The drama-filled promo, which accompanied the series premiere, featured tons of tears, petty fights and platinum "vagines," but 28-year-old contestant Jaimi grabbed our attention when she openly admitted to having a previous relationship with a woman.
"Nick was really receptive to my past relationship with my ex-girlfriend," Jaimi said in the promo clip. "It felt good to kind of set the stage for the rest of my time here."
While this doesn't necessarily confirm her sexuality outright, Jaimi's romantic history clearly points at something under the LGBTQ umbrella, which is a definite plus for gays on television.
It was just this year that Logo debuted "Finding Prince Charming," a show similar to "The Bachelor" that featured a gay man searching for love in a pool of 13 gay suitors. It even had its own form of a rose ceremony, spun as a "black tie ceremony," to announce who'd live to see another episode.
It was exciting, it was sassy and it got renewed for a second season. Talk about progress!
When it comes to including people of different genders and sexualities on shows like "The Bachelor," the public has voiced their opinion on multiple occasions. So, Jaimi's inclusion on a mainstream show with millions of fans (and Nick's positive reaction) is definitely a plus all the way.
There's no saying how long Jaimi's run on the reality love contest will be, since she's competing against a dolphin and a girl who's already had the pleasure of seeing Nick's penis. But it's safe to say she has the entire LGBTQ community rooting for her.
As someone who's never understood the appeal of "The Bachelor" before, it may have just earned itself a new viewer.
Citations: For The First Time, The Bachelor Has An Openly LGBTQ Contestant (Refinery 29), There's An LGBTQ Contestant On 'The Bachelor,' & That's A Huge Step Forward For The Show (Bustle)