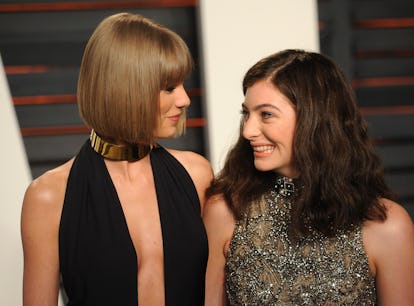 Lorde Revealed The Advice Taylor Swift Texted Her After She Released Melodrama
Their friendship is everything.
WWD/Penske Media/Getty Images
Everyone was feeling the melodrama back in 2017, including Taylor Swift. On the sixth anniversary of her sophomore album's release, Lorde revealed how her close friend Swift responded to Melodrama. In keeping with the album's name, Swift's reaction was over-the-top with vibrant imagery, and she also shared a piece of advice with Lorde that the singer never forgot. On an even more important note for some Swifties, the timing of this newly revealed text message seems to shut down the years-long speculation that Lorde and Swift had a falling out in the summer of 2017.
On Friday, June 16, Lorde filled her Instagram Stories with throwback posts to commemorate the anniversary of Melodrama. In between photos of her bathtub writing sessions and chaotic stories about launching "Green Light" from a restaurant's free wifi, Lorde shared the sweet message Swift had sent her shortly after Melodrama dropped. In true Swiftian fashion, the celebratory text sounds like gorgeous song lyrics itself.
"You will always be imagined in my mind in a rowboat with Annie Lennox floating down a river of cool cerebral ethereal dreams but don't-f*ck-with-me vibes all around you," Swift wrote. After that effusive praise, Swift went on to offer a bit of encouraging words of wisdom. "I don't think first week record sales singularly define a legacy," she added.
Six years later, Lorde is able to cosign that bit of advice. "Taylor was very kind and not wrong," Lorde captioned the screenshot.
Although Melodrama debuted at number one on the U.S. Billboard charts, its first-week sales were a bit lower than her previous release, Pure Heroine. Her 2017 release debuted with 109,000 in first-week sales, a notable dip from Pure Heroine's 129,000.
Not only did the text message reveal a sweet friendship moment fans hadn't seen before, but it also offered more insight into an infamous time in Swift and Lorde's relationship. At the same as this text conversation, Lorde was making headlines for comparing her involvement in Swift's friendship squad to an autoimmune disease. "It's like having a friend with very specific allergies," she said in a June 17, 2017 interview with The Guardian. "There are certain places you can't go together. Certain things you can't do. There are these different sets of considerations within the friendship. It's like having a friend with an autoimmune disease."
Lorde later apologized for the clumsy remark and clarified that she was still close with Swift, but simply didn't gel with the "squad" label that had become so popular at the time. And this newly shared text should be all the proof fans need to confirm that there was no bad blood between Lorde and Swift in that heated summer of 2017. Chalk it all up to melodrama, I guess.