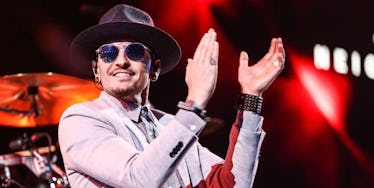 People Are Pissed At The Teen Choice Awards For Not Honoring Linkin Park
Rich Fury/Getty Images for iHeartMedia
Tonight was a big night for music fans across the world. At the 2017 Teen Choice Awards, young people celebrated their favorite musicians, top pop stars, and creative artists who have changed their lives. As part of the evening, fans were waiting for the opportunity to honor the life of Linkin Park frontman, Chester Bennington, after his untimely death. However, there was no Teen Choice Awards Linkin Park tribute, leaving the night incomplete for many viewers.
Sad news struck on July 20 when Bennington was found after committing suicide in his home in California. He was discovered in the morning on July 20, which was the 53rd birthday of his close friend and lead vocalist of Audioslave, Chris Cornell, who had committed suicide earlier this summer.
At Cornell's funeral, Bennington said, "My name is Chester. I had the great privilege of being a friend of Chris and invited to be a member of his family." He then sang the song "Hallelujah" accompanied by bandmate Brad Delson on guitar, according to Rolling Stone.
Bennington was 41 years old and is survived by six children.
Tonight, fans waited anxiously to see if Linkin Park would win the Choice Rock Artist Award, and for the opportunity to remember Bennington.
As the night wrapped up with no mention of the band or Chester, many felt that the lack of acknowledgement was a cold move. Understandably, angry Tweets began popping up.
One person wrote, "... let's face it. Chester deserves this."
It is also incredible that Linkin Park was nominated in the Teen Choice Awards, despite how long the band has been around.
Having originated in 1996, the band has been together longer than many of tonight's viewers have been alive. For young people today to still be so affected and in love with their music is a testament to their incredible sound, careers, and talent.
We send continued support to Bennington's family, and are keeping Linkin Park in our thoughts.