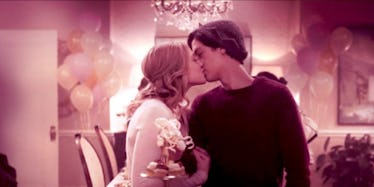 Lili Reinhart Reveals Why Betty & Jughead Work So Well On 'Riverdale' – EXCLUSIVE
CW
In just one thrilling season, Riverdale has exploded into one of the most beloved shows on TV. The teen-centric murder mystery has amassed a devoted fandom due to its fresh, complex characters and edge-of-your-seat whodunnit atmosphere, but as the first season went on, it became clear there was another reason fans were obsessed with the show: Bughead. The relationship between Betty Cooper and Jughead Jones quickly appealed to Riverdale fans. Elite Daily caught up with Betty herself, Lili Reinhart, at the St. Ives Mixing Bar in New York to ask why the Riverdale romance is so popular.
Reinhart admitted she was surprised at the overwhelming amount of love for Betty and Jughead's relationship. In the show's source material, Archie comics, Betty is mostly seen with Archie, while Jughead never really has any relationships with anyone who isn't a hamburger. In fact, the long-running strip confirmed Jughead to be asexual last year. Because of this, it was pretty shocking for fans to see Betty and Jughead get together on Riverdale, but the unexpected coupling ended up being the most popular on the series by far. The characters' chemistry even led to widespread rumors that Lili Reinhart and Cole Sprouse are dating in real life.
For Reinhart, while the Bughead love was a surprise, it didn't exactly come out of nowhere. She pointed out Betty and Jughead may seem like complete opposites on the outside — the "perfect," blonde girl next door and the broody emo kid from a broken home — but they're actually a lot alike underneath those exteriors.
It was surprising. I think people really were responding to the fact that these two characters, who were never put together [in the comics], are now having a love story. They're both polar opposites externally, but they're really not that different personality-wise: I think they're both romantic, they're both a little dark and tortured on the inside. And people like seeing those two outsiders come together in a way.
As fans saw in Season 1, Betty was able to relate to Jughead more than anyone else due to their shared investigative drive to solve the mystery of Jason Blossom's murder. It's also clear they both share a dark streak, with Jughead having affiliations with the Southside Serpents gang and Betty sometimes going to extreme lengths to enact revenge.
In the end, Lili Reinhart summed up the appeal of the Bughead relationship best when she said it's about two outsiders coming together. Let's hope they can stay strong in Season 2, which will premiere on October 11.