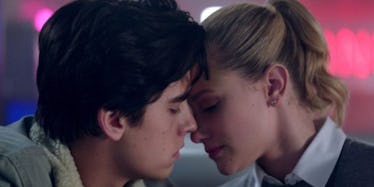 8 Pics That Prove Jughead & Betty Are The Best Couple IRL
The CW/YouTube
It's 2017 and, if we're being honest, it's never really surprising anymore when costars start dating each other. We've seen it time and again over the years, and, whether it's a legit relationship or just a nicely orchestrated stunt for publicity, we love to ship new celeb couples. That being said, in a year that's seen plenty of high-profile make-ups and breakups, Riverdale stars Jughead and Betty are dating and they're the cutest couple IRL.
Better known as Cole Sprouse and Lili Reinhart, this couple is stealing our hearts on and off camera.
Rumors that the two have been dating started circulating back in springtime when Cole uploaded a few pics of Lili to his Instagram, and we've been hoping for an *official* announcement of a real life "Bughead" romance ever since. Unfortunately for us, it doesn't look like we'll be getting that satisfaction anytime soon, given how adamant Sprouse is about keeping his personal and public lives separate.  The Riverdale star told Elle this week,
I am one of those guys that's never ever going to talk about my private life with the public sphere. I mean people can talk about the Jughead as much as they want but when it comes to the personal relationships, I have spent much of my life separating work and play so I will continue to do so.
Whatever, Cole, that won't stop us from making googly eyes anytime we see a picture of you two. In fact, here are a few pics of the "couple" to remind us that they are, indeed, the most adorable celeb relationship we have and we should protect them at all costs.
Here's a pic Lili uploaded to her Insta to say happy birthday to Cole last August.
Cuteness factor: 9.5/10 — lost points because dating rumors hadn't started yet and you didn't wish Dylan HBD.
Here are shots of the two being all coy during a WonderCon interview.
Cuteness factor: 11/10 — look at how they look at each other and smile as if the other is the best thing they've ever seen.
Here they are fooling around during a press photo shoot.
Cuteness factor: 10/10 — why you so tired, Cole? Too much of hiding your relationship from the public got you feeling a bit exhausted??
And here they are watching a sunset together.
Cuteness factor: 13/10 — I'm not crying YOU are.
Here's a pic they took with a fan.
Cuteness factor: 9/10 — their body language here does not say "just friends" IMO.
And here's one that Lili uploaded to her Snapchat story.
Cuteness factor: 15/10 — everything is cuter with a Snapchat filter on it.
Finally, here's a pic of them just being cute and smiling because they're with each other.
Cuteness factor: unable to rate because everything about this is adorable.
Well, there ya have it, folks, if these two aren't already in a relationship, they better hurry up and lock each other down because they are one seriously adorable couple. Here's to keeping our fingers crossed that "Bughead" isn't only in our dreams.