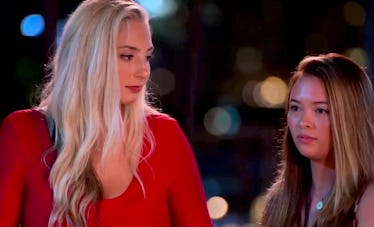 Lexi From The Ultimatum Has A New GF & She's Shading Rae Hard
The show may be over, but the drama has only just begun.
Netflix
Lexi and Rae had a very rocky journey on The Ultimatum: Queer Love, but it seemed like they actually worked through all their issues by the time of the reunion... until that surprise final moment. Before the credits began to roll on the season's last episode, a title card confirmed that Lexi and Rae ended their relationship shortly after filming the reunion. In the days since, more information has come out, and Lexi's new girlfriend has been sharing her not-so-nice feelings about Rae on social media.
Lexi hard-launched her new relationship with photographer Kristin Zancanelli on Friday, June 9, posting a spicy montage of herself and Kristin with the caption, "couples content loading..." Kristin also began posting lovey-dovey TikToks with Lexi shortly after the reunion aired, confirming that the couple had been together for a while but weren't able to talk about their relationship while The Ultimatum was airing. But not all of Kristin's posts have been all about the love. After the finale aired, Kristin joked about watching Lexi's ex Rae propose to her since she knew the engagement wouldn't last.
When a commenter accused Kristin of using the situation for clout, she responded by throwing some shade in Rae's direction, claiming that Rae had "confronted" her "in uncomfortable ways" at Netflix event.
"If you guys think I can't so much as even make light of the fact that I needed to watch my girlfriend's last relationship be aired on national television while we were dating, then I don't really understand what you guys expect out of people," Kristin began. "Being able to make funny TikToks is how Lexi and I have gotten through some of the uncomfortable parts of dating during something like this, which I personally think is a really healthy way to deal with reality TV. And to the people who think this is for clout, we're both in social media, and have been, and that's the beauty of this relationship, is that there's nothing that I need from Lexi and there's nothing that Lexi needs from me other than love. And that's called a partnership. I have had to go to Netflix events with Lexi in support of her, and be confronted by her ex in uncomfortable ways, and have had to learn how to deal with that. But none of y'all think about that sh*t, huh? So respectfully, mind your business."
It's not clear exactly what these "uncomfortable confrontations" entail, but it definitely does sound like there's a lot more drama involved in the Lexi and Rae breakup than fans were aware of.