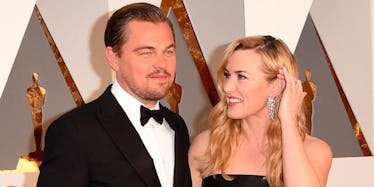 Leonardo DiCaprio Gushes Over Kate Winslet In This Sweet Throwback Video
Getty Images
There are flawless professional pairings, there are classic romances and then there's the elusive combination of the two: the Kate and Leo.
Since Leonardo DiCaprio and Kate Winslet filmed 1997's "Titanic," they've shared a profound, mutual admiration and countless teary-eyed gazes across crowded award ceremonies.
Now, a throwback clip of Leo from an episode of "The Oprah Winfrey Show" reminds us that, perhaps instead of looking for a one true love, we should all be looking for a one true work spouse.
When an audience member asked Leo to name his favorite on-screen kiss, the Oscar winner said,
I'm just gonna go with Kate Winslet, good old classic.
Oprah then shared a clip of Kate's interview from a previous episode, where the Oscar winner (they're both brilliant, gorgeous Oscar winners, duh) gushed over Leo's talent and personality.
In response to seeing the clip, Leo shared,
That's my girl. I feel the same way about her. If it wasn't for her, making that film, we would have been shrapnel by this point. It was just the toughest film we ever had to make, and we were partners together.
The A-listers support of one another's accomplishments and 20-year commitment to simply saying nice things about one another in public is inspiring on both a personal and professional level.
Forgive the Céline Dion, but their hearts legitimately go on and on.
Citations: Leonardo DiCaprio Talking About Kate Winslet in 2004 Will Make You Swoon (Cosmopolitan)